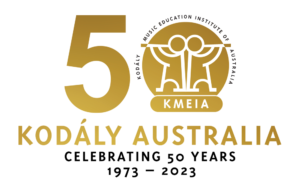 On behalf of Kodály Australia, I write to thank you for your support this year and offer our best wishes for the festive season. I trust that your work for this year is nearing completion and that you will soon be enjoying time with family and friends.
When reflecting on the work of our association in 2022, I cannot help but feel a strong sense of pride. Together, we have achieved:
I wish to recognise publicly and sincerely thank the volunteers of the National Council and Branch and Chapter Committees who worked together for the benefit of members. Special mention to Joel Copeland (2022 Conference Convenor), Katharine Finlayson (ACT Branch President) and their team for their leadership of the National Conference.
We also congratulate and celebrate the achievements of our members from 2022.
Honorary Life Membership was awarded to Glenys Gisjbers (Vic).
Recipients of the Awards for Excellence in Kodály-inspired Music Education: Hayley Blakiston (Vic), Dr Michael Bradshaw (NSW), Joel Copeland (ACT), Katharine Finlayson (ACT), Gaby Freer (SA), Melissa Foss (WA), John Goulter (Qld), Renée Heron (Vic), Dr Aleta King (NSW), Andrew Pennay (Qld), Rosalie Scott (WA), and Dr Anthony Young (Qld).
The following members were awarded the Australian Kodály Certificate: Hayley Blakiston (Primary), Miriam Brownlee (Primary), Adele Cummings (Secondary), Ros Emeleus (Primary), Jillian Grainger (Secondary), Jessica Wynne (Primary).
Kimberley Lloyd (WA) became an Accredited Lecturer for the AKC.
Dr Jason Goopy (Qld/WA), Jason Boron (WA), John Goulter (Qld), Dr Aleta King (NSW), Anna van Veldhuisen (Vic), and Dr Anthony Young (Qld) delivered a symposia on Australian Kodály-Inspired Music Education at the 35th ISME World Conference.
We look ahead to the new year with great excitement as we celebrate 50 years of Kodály Australia (1973-2023). I encourage you to join in the celebrations by connecting with colleagues at a Branch or Chapter event. Many professional learning opportunities are already listed on our national website event listing and there are more to come.
There is also a range of AKC Courses on offer, allowing you to continue your studies and improve your teaching and musicianship. Keep an eye too beyond our shores as the 26th International Kodály Symposium will be held in Los Angeles, California, USA from 31 July to 4 August 2023.
For me, reuniting our community in person at the National Conference in Canberra was a special occasion that I will treasure forever. Kodály ACT last hosted the national conference in 2008, and as a then 'first-year out' graduate teacher, that event marked my first formal introduction to KMEIA. Since becoming a member of our association, I have found inspiration, support and encouragement from like-minded colleagues committed to advancing Kodály-inspired music education in Australia. I believe our members remain the true power of our association – it is only through your continued membership, engagement and contributions that ensures our community continues to thrive.
Thank you sincerely for your support of Kodály Australia. I look forward to working with you in the new year as we continue to advance Kodály-inspired music education in Australia.
With best wishes
Jason Boron
President
Kodály Australia
(Kodály Music Education Institute of Australia Incorporated)
www.kodaly.org.au
An affiliated national institutional member of the International Kodály Society
www.iks.hu 
In the spirit of reconciliation Kodály Australia acknowledges the Traditional Custodians of country throughout Australia and their connections to land, sea, and community. We pay our respect to their Elders past, present and emerging, and extend that respect to all Aboriginal and Torres Strait Islander peoples today.