Melissa Foss
2022 Award Recipient for Excellence in Australian Kodály-inspired Music Education: Early Career Teacher
Nominated by Jason Boron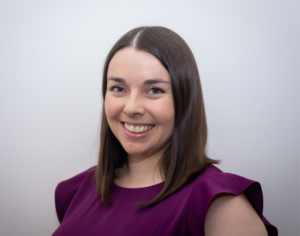 Melissa Foss is a Primary Music Teacher currently working at Bannister Creek Primary School in Perth, Western Australia. She teaches music to students from Kindergarten through to Year 6, with the co-curricular ensembles of Senior Choir, Junior Choir and Concert Band. Outside of school, Melissa spends her Saturday's teaching Junior Musicianship and Choir to the Smalley ensemble of Western Australian Young Voices (WAYV) and continues to teach private piano students after school. 
Since her first music education unit at University, Melissa has sought out as many professional development opportunities as were available and was particularly drawn to the Kodály philosophy and approach to music education. She has since completed the Primary 1 and Secondary 1 levels of the AKC, in addition to a large number of Kodály courses and seminars locally, interstate and internationally. She believes all students deserve a high quality music education with singing at its core to create a holistic, joyful and engaging program, where all students can find success and develop a love of music. Melissa is highly dedicated and deeply passionate about promoting best practice in music education and believes the Kodály approach embodies this. She currently serves as Secretary on the Kodály WA Branch, and works towards sharing this vision with all. 
1. Demonstrated personal teaching and musical excellence
Since meeting Melissa Foss in 2019, I have been inspired by her commitment to become the best music educator that she can be. Melissa completed the Master of Teaching (Primary) Music Specialisation at Edith Cowan University (ECU). As a result, Melissa engaged in a self-devised professional learning program focusing on development as a musician and educator and completed no fewer than 12 Kodály-inspired professional development courses offered by Kodály Western Australia, Kodály Australia, Kodály Institute of the Liszt Academy of Music (Hungary) and the National Youth Choir of Scotland. As a graduate teacher, Melissa has successfully completed Primary and Secondary Level 1 of the Australian Kodály Certificate, as well as First Steps in Music and Conversational Solfege Lower Levels courses. Furthermore, Melissa continues to develop her musicianship skills as a member of the highly regarded 'Naya Chorale'. 
2. Demonstrated contribution of work to Australian Kodály-inspired music education and/or the Kodály Australia community
Melissa has actively contributed to the success of Kodály WA, first as an ordinary committee member and now as Secretary. Originally from Harvey, Melissa's local knowledge was essential to ensuring the success of the first Australian Kodály Certificate Course offered in the South-West region of WA.  These highly respected contributions have led to her election as Secretary of Kodály WA. 
Her exceptional organisation skills, fresh ideas and general enthusiasm has contributed significantly to the successful running of the branch this year. Hayley Burns, President, Kodály WA. 
3. Demonstrated impact of work on Australian Kodály-inspired music education and/or the Kodály Australia community.
Melissa has developed a reputation as an outstanding Kodály-inspired early career music educator. 
Dear Ms Foss, Thank you for being such a kind, encouraging and very relaxed teacher. You always make sure we keep going to try and bring the best out in our singing. You have taught me so much about music that I didn't know. Thank you for teaching me this year. Ethan (Year 8 student) 
As co-conductor of 'Smalley' for the West Australian Young Voices, she has developed an aural based sequential-developmental non-auditioned choral musicianship program available to primary age children that is highly regarded by parents. 
I am a Kodály-trained choral conductor and music teacher, and have been sending my children (aged 6 and 7) to Mel's program at the Smalley choir of WA Young Voices since its inception in 2021. I have been consistently impressed with Mel's delivery of music education using Kodály techniques and philosophy. Her lessons are conducted professionally and with confidence and warmth, and the breadth of her song and game repertoire is impressive. She is a very capable musician, and interacts with the children in an engaging manner. As a parent and professional musician, I have had the utmost confidence in her abilities and have been very grateful for the quality education that my children are receiving. Sarah Mills Menogue, AdvDipChoral Conducting, Kodály Institute, Hungary. 
3. Potential model for others.
Melissa has served as an exemplary model for others to aspire to. She has initiated and fostered strong collegial and professional connections with pre-service and graduate teachers wishing to develop their understanding of Kodály-inspired music education. 
Melissa often assists early career teachers by offering advice and encouraging teachers to further develop their education through Kodály-inspired practice. Hayley Burns, President Kodály WA.  
I have continued to be inspired by her humble nature and strong commitment to excellence. I have no doubt that Melissa will make an important and lasting contribution to the advancement of Kodály-inspired music education in Western Australia. 
Awards for Excellence
Latest News
It is with great sadness that we inform our community of the passing of Honorary Life Member Gabrielle Emery-Reece. Gabrielle made a significant contribution to Kodály Australia through both the Queensland Branch and National Council as a committee member, Vice President …
Read more →
On behalf of Kodály Australia, I write to thank you for your support this year and offer our best wishes for the festive season. I trust that your work for this year is nearing completion and that you will soon …
Read more →
The Kodály Australia National Council were delighted to receive impressive applications and nominations for the 2022 Awards for Excellence in Australian Kodály-inspired Music Education. It was inspiring to see a high number of peer-nominations across each of the five categories. …
Read more →
I am humbled to be elected as President of the Kodály Music Education Institute of Australia. The President along with members of the National Council provide leadership and governance of our association. I look forward to working with the 2022-2024 Council members …
Read more →
On behalf of Kodály Australia, I write to thank you for your support this year and offer our season's greetings. I trust your work has now wrapped up for the year, and you are celebrating the festive season with family …
Read more →