Dr Michael Bradshaw
2022 Award Recipient for Excellence in Australian Kodály-inspired Music Education: Innovation
Nominated by Jennifer Gillan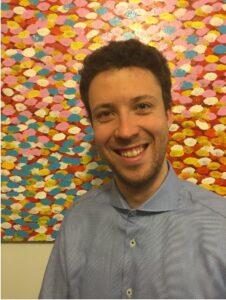 Michael works as a teacher at the Sydney Conservatorium High School where he teaches a variety of music subjects to students from grades 7-12 and assists with the Kodály and choral programs at the school. He completed his Bachelor of Music at the University of Queensland Australia, graduating with first class honours and a University Medal in 2011, having completed a dual specialisation in piano performance and musicology. In 2014 he then travelled to Hungary where he completed an MA in Kodály pedagogy through the Kodály institute of the Liszt Academy of Music. Michael stayed there a further year to work as assistant to the director, Dr. László Norbert Nemes, teaching musicianship classes and conducting the institute choir, as well as completing further studies in conducting, piano, and voice. In 2018 he was awarded a PhD for his research into the music of Sergei Prokofiev, and since 2019 he has been the musical director of the Sydney University Musical Society choir.
Response to Selection Criteria
Michael was innovative in his teaching during the long lockdown of 2020-2021, though this period of isolation was longer for Melbourne than for Sydney! He organised, along with Carla Trott, to host musicianship lessons via Zoom at a variety of levels. The mode of transmission made it possible to access musicianship lessons of a high standard from across Australia and the world. There were attendees from other countries too. These sessions were a real life saver for those of us in the trenches having to suddenly teach Musicianship in a different way – remotely – with limited preparation time, and at a time where our work load (which included supervising our own kids through remote learning) more than doubled.
Those days were bleak and lacking in collegial connection. For me, Michael's classes not only gave me many new innovative ideas about how to teach my own musicianship classes online, but also fed my soul at a time when it was crying out for music and connection.
His methods included: recording different parts and omitting certain parts so that students at home could still have an experience of singing in a group while on their own, the use of iReal Pro for chord progressions and to provide a harmonic accompaniment in different styles over which to improvise at home. This program was also used to provide backing tracks instead of using the metronome. This provided a more musical experience when doing rhythmic work.
Michael taught using the Bach examples but used two part versions, which automatically increased the musical and pedagogical possibilities of these awesome works.
Michael's teaching style was accessible and challenging. The work he put into each lesson was truly exhaustive. In order to teach online, everything that a group has to do together must be recorded as individual parts then put together. Everything written on the board needs to be saved as images. I know that from my own teaching, a single lesson can conservatively consist of twelve or more files. His hard work and the resulting flow of his lessons could not be faulted.
A lot of us are teaching online now and what he did may seem commonplace given the rapid upskilling we all undertook. It's hard to believe how innovative it was back then when we were all feeling our way through but his lessons really made a difference for me and my students musically. His approach meant that, while alone, corporate music was still possible. I was, and am still using his methods and ideas every week. I am now in a hybrid model due to the constant turnover of different students who are isolating so all the work I did is still a weekly part of my existence as a music teacher. I am, without a doubt, a better musician and teacher, for the work he did.
Awards for Excellence
Latest News
It is with great sadness that we inform our community of the passing of Honorary Life Member Gabrielle Emery-Reece. Gabrielle made a significant contribution to Kodály Australia through both the Queensland Branch and National Council as a committee member, Vice President …
Read more →
On behalf of Kodály Australia, I write to thank you for your support this year and offer our best wishes for the festive season. I trust that your work for this year is nearing completion and that you will soon …
Read more →
The Kodály Australia National Council were delighted to receive impressive applications and nominations for the 2022 Awards for Excellence in Australian Kodály-inspired Music Education. It was inspiring to see a high number of peer-nominations across each of the five categories. …
Read more →
I am humbled to be elected as President of the Kodály Music Education Institute of Australia. The President along with members of the National Council provide leadership and governance of our association. I look forward to working with the 2022-2024 Council members …
Read more →
On behalf of Kodály Australia, I write to thank you for your support this year and offer our season's greetings. I trust your work has now wrapped up for the year, and you are celebrating the festive season with family …
Read more →