Australian Kodály Journal
Since its founding in 1973 by Dr Deanna Hoermann, KMEIA has produced national publications under various titles that provide a rich source of academic and historical literature concerning Australian Kodály-inspired research and practice. Most recently, this was under the title of the Australian Kodály Journal.
At the end of a project spanning over three years, in 2018 the KMEIA National Council is pleased to make all its previous national publications available online FREE to the world under open access principles. It is envisaged that future music and music education research and practice will build upon this significant collection and continue to advance music for all in Australia and around the world.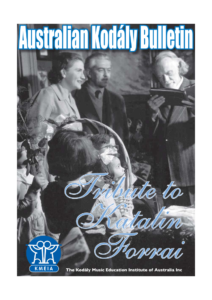 Click here to access the collection of KMEIA national publications through Informit.
Click here to view the index of the KMEIA's published articles.
Australian Kodály Journal
Latest News
It is with great sadness that we inform our community of the passing of Honorary Life Member Gabrielle Emery-Reece. Gabrielle made a significant contribution to Kodály Australia through both the Queensland Branch and National Council as a committee member, Vice President …
Read more →
On behalf of Kodály Australia, I write to thank you for your support this year and offer our best wishes for the festive season. I trust that your work for this year is nearing completion and that you will soon …
Read more →
The Kodály Australia National Council were delighted to receive impressive applications and nominations for the 2022 Awards for Excellence in Australian Kodály-inspired Music Education. It was inspiring to see a high number of peer-nominations across each of the five categories. …
Read more →
I am humbled to be elected as President of the Kodály Music Education Institute of Australia. The President along with members of the National Council provide leadership and governance of our association. I look forward to working with the 2022-2024 Council members …
Read more →
On behalf of Kodály Australia, I write to thank you for your support this year and offer our season's greetings. I trust your work has now wrapped up for the year, and you are celebrating the festive season with family …
Read more →