Singing the Dots
by Jodie O'Regan
The National Council of the Kodály Music Education Institute of Australia is pleased to present the project report and outcomes of the inaugural 2016 Australian Kodály Scholarship. Jodie O'Regan has produced a tremendous resource that embodies the Kodály philosophy and music for all. Singing the Dots aims to develop musicianship and music literacy in adult community choirs. Featuring a Foreword by Dr James Cuskelly, this resource provides a valuable contribution to community singing and music education.  
Many choristers know being able to read music would improve their experience in choir, but singers come to choir to sing. It can be hard to find time, enthusiasm and suitable material to work on music literacy. With Singing The Dots, choristers can develop musicianship skills through singing songs together, immediately connecting sightreading to real choral repertoire.
The songs are composed for adults. The ranges are comfortable and the words are settings of beautiful, well known poetry. Musical elements are introduced one at a time, with simple explanations and short, lighthearted exercises. The material is crafted to be practical and accessible, and adapts the highly successful Kodály approach to the needs of adult choristers.
Choirs are welcome to use Singing The Dots to focus on explicitly developing musical literacy or simply as a collection of songs to sing. The material can stand alone, or be used in conjunction with other musicianship training.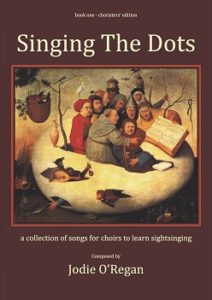 Singing the Dots: Book One
Choristers' Edition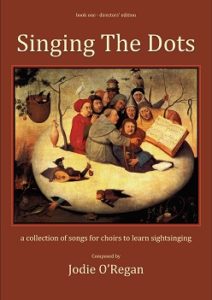 Singing The Dots: Book One
Directors' Edition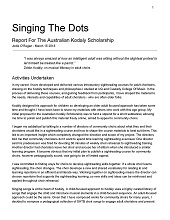 AKS Report
Free Resources
Latest News
It is with great sadness that we inform our community of the passing of Honorary Life Member Gabrielle Emery-Reece. Gabrielle made a significant contribution to Kodály Australia through both the Queensland Branch and National Council as a committee member, Vice President …
Read more →
On behalf of Kodály Australia, I write to thank you for your support this year and offer our best wishes for the festive season. I trust that your work for this year is nearing completion and that you will soon …
Read more →
The Kodály Australia National Council were delighted to receive impressive applications and nominations for the 2022 Awards for Excellence in Australian Kodály-inspired Music Education. It was inspiring to see a high number of peer-nominations across each of the five categories. …
Read more →
I am humbled to be elected as President of the Kodály Music Education Institute of Australia. The President along with members of the National Council provide leadership and governance of our association. I look forward to working with the 2022-2024 Council members …
Read more →
On behalf of Kodály Australia, I write to thank you for your support this year and offer our season's greetings. I trust your work has now wrapped up for the year, and you are celebrating the festive season with family …
Read more →