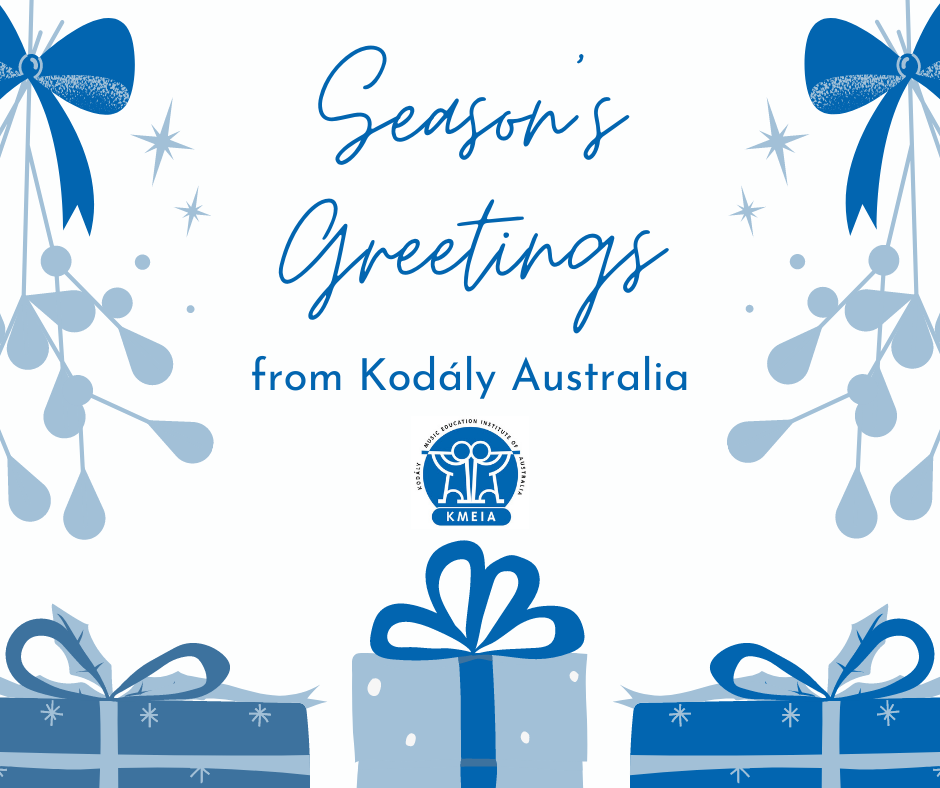 On behalf of Kodály Australia, I write to thank you for your support this year and offer our best wishes for the festive season. Despite the unimagined challenges of 2020, there is still much to be thankful for.
The pandemic has reminded us that connecting with colleagues and friends is important, and Kodály Australia has strived to continue bringing our community together in the new normal. From an association that traditionally prides itself on face-to-face offerings, we rapidly transitioned to an online environment. It is important to remember and celebrate our association's national achievements this year. These include:
I would like to publicly recognise and sincerely thank the volunteers of National Council and Branch and Chapter Committees who worked together for the benefit of members. We also congratulate and celebrate the achievements of our members from 2020.
Honorary Life Membership was awarded to Deb Brydon (Qld)
Elizabeth O'Leary and Jenny Ferris (Vic) were both awarded the inaugural Deanna Hoermann Scholarship
Margaret Lange OAM was awarded the Enid Scott Conference Award
The following members were awarded the Australian Kodály Certificate: Astra Chatswood (Primary), Priscillia Chan Sze Ching (Primary), Bonnie Gibson (Primary), Laura Keeley (Primary), Benita Klowss (Primary), Eloise McIntyre (Primary), Paul McNeill (Secondary), Matthew Owen (Early Childhood), Mehernaz Pardiwalla (Primary), Julia Piggin (Primary), Erica Russell (Primary), Kate Thompson (Secondary), and Jonathan Wilson (Primary)
Kimberley Lloyd and Hilary Price-Keegan (WA) completed the Master of Music in Music Education (Kodály emphasis) from Holy Names University, USA
Laura Keeley (WA) completed the Diploma in Kodály Music Pedagogy from the Kodály Institute of the Liszt Academy, Hungary
The strength our of membership has allowed Kodály Australia to form new partnerships and consult on significant music education projects this year.
Partnerships were formed with the South Australia Music Education Strategy and ISME Council of Professional Associations
Kodály Australia is in consultation with ACARA (Australian Curriculum, Assessment and Reporting Authority) regarding the review of the Australian Curriculum
Kodály Australia is represented on the Alberts Advisory Group of the Tony Foundation aiming to provide primary school students with greater access to quality music education
Kodály Australia is committed to reconciliation and more deeply including Australian Aboriginal and Torres Strait Islander perspectives as part of our community and practice. This year, National Council formed a Reconciliation Committee and has started on the journey of creating a Reconciliation Action Plan (RAP) through Reconciliation Australia. As part of this process, we will be seeking representational voice of Australian First Nations peoples. Branches intend to provide ongoing professional learning and resources as we continue to listen, learn, and critically reflect.
As we embrace 2021, branches are already planning a mix of online and in-person professional learning opportunities. I invite you to start planning your professional development using our national website event listing and ask for your support regarding COVID safe practices and restrictions that we must follow. In support of our broader music education community, I also encourage you to consider submitting a proposal to present at the 2021 International Kodály Symposium Online (due 28 December 2020) and the ASME National Conference (due 14 May 2021).
Over this summer period, please take time to rest and reconnect with family and friends – you deserve it! We look forward to continuing to work together in the new year as we continue to strive towards quality and valued music education for everyone – online and in-person!
With best wishes
Dr Jason Goopy
President
Kodály Australia
(Kodály Music Education Institute of Australia Incorporated)
www.kodaly.org.au
An affiliated national institutional member of the International Kodály Society
www.iks.hu
In the spirit of reconciliation Kodály Australia acknowledges the Traditional Custodians of country throughout Australia and their connections to land, sea, and community. We pay our respect to their Elders past, present and emerging, and extend that respect to all Aboriginal and Torres Strait Islander peoples today.