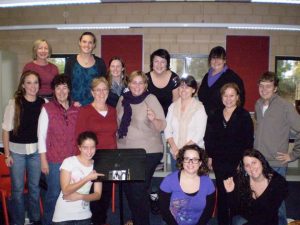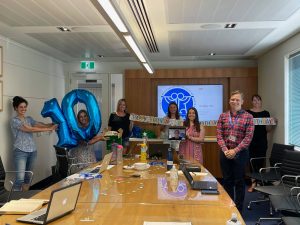 Whilst the formation of Kodály WA emerged during 2010, it was on 23 January ten years ago that our branch officially became an incorporated association.  This means this year we celebrate the 10th anniversary of Kodály WA!
During our first committee meeting for the new year, founding committee member Jason Boron (who was instrumental in the establishment of Kodály WA) spoke about the establishment of the branch and the significance of the achievements from the last 10 years. Some of these achievements include:
Formation of the branch on 23 June 2010 and subsequent incorporation (as a legal entity) on 21 January 2011 under the leadership of inaugural president Wendy-Cara Dugmore and vice-president Jason Boron
Introduction of the Australian Kodály Certificate (AKC) Course to WA music educators – since 2014 over 253 early childhood, primary, secondary, vocal, instrumental and community music educators have completed at least one level of an AKC course (held in 2014, 2015, 2016 and 2018)
Facilitation of no fewer than 56 separate professional development events on Kodály-inspired music education
A workshop in 2014 from internationally renowned Kodály practitioner Prof. John Feierabend (USA)
Visit and address in 2016 from Kodály Australia founder Dr Deanna Hoermann to celebrate our first AKC 'graduates'
Hosting the 2018 Kodály National Conference – the first to be held in Western Australia and featuring over 400 participants (including the children and youth choirs) and presenters with keynote addresses from Dr James Cuskelly OAM, Prof. David Elliott, Maree Hennessy and Micheál McCarthy
Conference commissioned work 'night day sea' with music composed by Alex Turley (Perth Modern School & WAAPA graduate) and words by WA poet Roland Leach
Expansion of professional development offered to members in regional WA including Kodály Connect in Albany, Bunbury, Geraldton and Kalgoorlie; as well as a memorable Winter School with Réka Csernyik, Daniel Crump and Micheál McCarthy in Fairbridge Village near Pinjarra
The 2019 Queensland Music Education Study Tour that included visits to the outstanding Kodály-inspired music programs offered at Ambrose Treacy College, Clayfield College, Middle Ridge State School, Mount Alvernia College, St Aidan's Anglican Girls School and St Laurence's College.
Achieving in 2020 a record of over 200 active members and becoming the second largest branch of Kodály Australia
The awarding of honorary life membership to Sally Christmass and Celia Christmass
It has been clear that all of this has only been possible with the support of our incredible members – thank you for your commitment to Kodály WA and to music education here in Western Australia.
As we look ahead to 2021, I warmly invite you to attend our first event of the year 'Kodály Kick-Start' which will be held at Hale School on the morning of Saturday 20 February. Plan ahead a weekend away and attend our annual regional Kodály Connect PD series on Saturday 6 March in either Albany, Bunbury, Geraldton, Kalgoorlie and (for the first time) Mandurah. Finally, let the regional holiday plans continue with the 2021 AKC Course delivered 'retreat style' on the beautiful grounds of Edith Cowan University South West Campus in Bunbury WA. Do not miss out on super-early-bird rates and register today on our website by clicking here.
For now, I wish you the very best for the start of a new school year and the next decade of achievements for Kodály WA.
Looking forward to seeing you soon!
Kind regards,
Hayley Burns
President
Kodály WA
(Also known as the Kodály Music Education Institute of Australia Western Australian Branch Inc.)