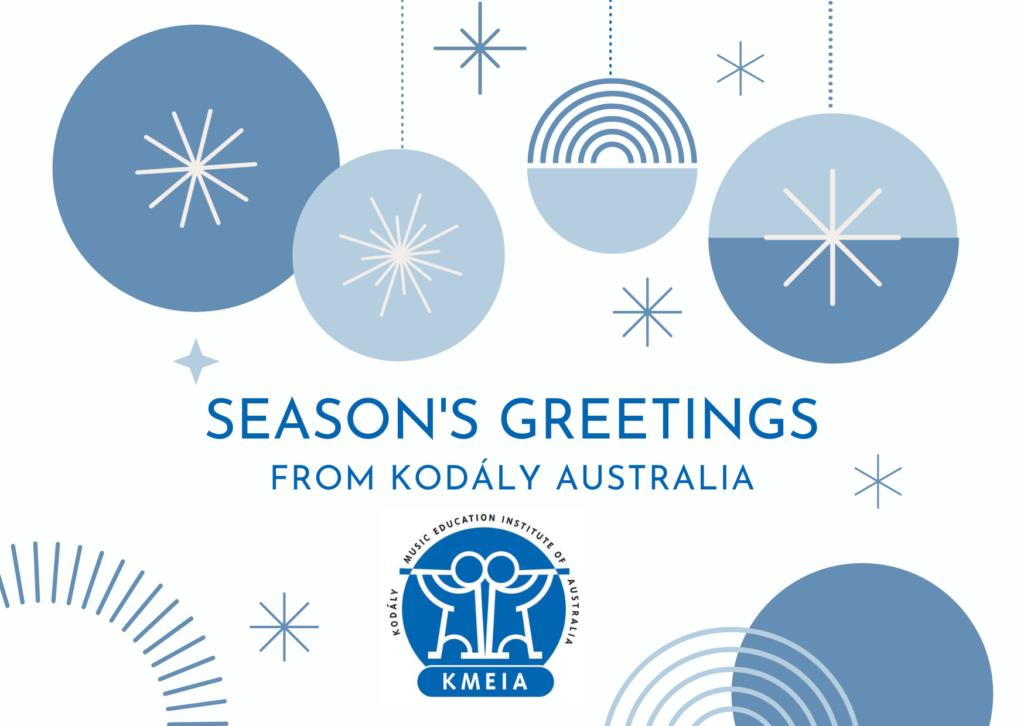 On behalf of Kodály Australia, I write to thank you for your support this year and offer our season's greetings. I trust your work has now wrapped up for the year, and you are celebrating the festive season with family and friends.
Before the end of the year, it is important to take a moment to recognise and celebrate our association's national achievements for 2021. Despite hurdles and curveballs, we have continued to maintain momentum and achieved:
I would like to recognise publicly and sincerely thank the volunteers of the National Council and Branch and Chapter Committees who worked together for the benefit of members. We also congratulate and celebrate the achievements of our members from 2021.
Honorary Life Membership was awarded to Tricia Casey (Qld).
The following members were awarded the Australian Kodály Certificate: Stephanie Eaton (Secondary), Rita Fitzgerald (Primary), Melissa Karakaltsas (Primary), Susan Searle (Primary), Lisa Sheppard (Primary), Nickea Warrener (Primary), and Wendy Wood (Primary).
Stephanie Eaton (SA) became an Accredited Lecturer for the AKC.
Peter Shanhun, Kimberley Lloyd, and Hilary Price (WA) completed AKC Lecturer Accreditation Mentoring.
Bonnie Gibson (Qld) and Elizabeth O'Leary (Vic) completed studies at the Kodály Institute of the Liszt Ferenc Academy of Music, Hungary.
Dr Aleta King (NSW) completed the Doctor of Musical Arts at the Sydney Conservatorium of Music, The University of Sydney.
Jennifer Gillan (Vic), John Goulter (Qld), and Dr Jason Goopy (Qld) presented at the 25th International Kodály Symposium hosted online by the Polish Kodály Society.
The recently announced 2022 Awards for Excellence in Kodály-inspired Music Education are another opportunity for us to celebrate the outstanding work of individuals in our community. We are keen to acknowledge people who may have gone unnoticed, so be sure to submit a nomination by 31 March.
As we look ahead to next year, I invite you to keep an eye on our national website event listing. Many professional learning opportunities for 2022 are already listed, and there are more to come! There is also a range of AKC Courses on offer, allowing you to continue your studies and improve your teaching and musicianship. I especially would like to draw your attention to the 2022 Kodály Australia Conference "Spring into Song", held from 26 – 29 September at Canberra Girls' Grammar School – registrations are now open! This promises to be a special event, being the first time in four years that we have been able to come together as a national community.
Thank you again for your support this year. I look forward to working together in the new year as we continue to aspire for excellence in inclusive music education.
With best wishes
Dr Jason Goopy
President
Kodály Australia
(Kodály Music Education Institute of Australia Incorporated)
www.kodaly.org.au
An affiliated national institutional member of the International Kodály Society
www.iks.hu
In the spirit of reconciliation Kodály Australia acknowledges the Traditional Custodians of country throughout Australia and their connections to land, sea, and community. We pay our respect to their Elders past, present and emerging, and extend that respect to all Aboriginal and Torres Strait Islander peoples today.