Tricia Casey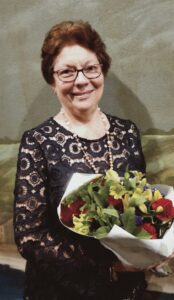 Congratulations to Tricia Casey (QLD), awarded Honorary Life Membership of Kodály Australia in 2021.
Since its inception, Tricia has been instrumental in planning the annual Kodály Mackay Chapter Choral Festival. In 1991, Tricia was a member of the first committee to host the Choral Festival. After two years on this small committee, which was under the leadership of Carmel Daveson, Tricia took over the role of Choral Festival Coordinator, and she remained in this role until 2007. The success of this regional festival is largely due to Tricia's dedication and hard work. Each year, Tricia remains heavily involved in the festival, despite giving over the coordinator reins in 2008. She is the official photographer and does many of the jobs and tasks needed to ensure the smooth running of this annual event.
Tricia remains a dedicated Do Re Mi teacher in Mackay. She is the only registered Do Re Mi teacher in the region and has been teaching Do Re Mi classes since 1988. In 2021 as the Queensland Co-ordinator, she has tried to connect with other Do Re Mi teachers through Zoom meetings. Tricia has taught extended levels of Do Re Mi at the Conservatorium of Music since 2011 and implemented a Do Re Mi program into Mackay Child Care Centres since 2007.
Tricia has also actively taught music over 22 years at various Mackay primary schools, including St Mary's Catholic Primary School. She initially provided five years of volunteer music lessons at St Mary's with supporting lessons given to the Years 1 to 7 classroom teachers. These lessons became St Mary's first teacher release periods. During this time, Tricia also lectured at CQ University in training general teachers in the Bachelor of Education for their music component. She set up open classroom viewing sessions for all of her 135 university students to visit and observe her lessons.
Over the years, Tricia has presented at numerous local workshops, KMEIA National Conferences, Early Childhood Conferences, and the International Kodály Symposium in cities across Australia, including Canberra, Adelaide, Brisbane, Sydney, and Mackay. She has also been a valued presenter to emerging teachers in Mackay at our local Winter Schools and other workshops, including the Mackay beginning teacher Music in the Sun course (2005), which Judy Johnson ran. Her topics are relevant for Early Childhood teachers, including lesson content, resource "make and takes", business planning, working with specific age groups and multi-age groups. In addition, she wrote two books, "Resources Made Easy" Vol I and II, where she allowed full copy access so that teachers could easily create resources for their classrooms.
Tricia was the recipient of the Enid Scott Conference Award in 2016, acknowledging her longstanding voluntary service to the association. Her skills and knowledge of music education in the early childhood sector are cherished by her peers and the music education community.
Honorary Life Members
Latest News
The International Kodály Society offers fee waiver scholarships to support participation in Kodály-inspired professional development. The closing date is 1 November 2023. Full information including selection criteria and eligibility is available on the IKS website. With best wishes Jason Boron …
Read more →
It is with great sadness that we inform our community of the passing of Honorary Life Member Ann Carroll. Ann made a significant contribution to Kodály Australia through service as a member of National Council (2008-2020), Editor of the Australian …
Read more →
It is with great excitement that we look forward to the next Kodály Australia Conference to be held in NAARM / Melbourne on September 23 – 26, 2024. Preparations are well underway and the Call for Presentations close this Sunday 15 October 2023. I strongly …
Read more →
It is with great sadness that we inform our community of the passing of Honorary Life Member Gabrielle Emery-Reece. Gabrielle made a significant contribution to Kodály Australia through both the Queensland Branch and National Council as a committee member, Vice President …
Read more →
On behalf of Kodály Australia, I write to thank you for your support this year and offer our best wishes for the festive season. I trust that your work for this year is nearing completion and that you will soon …
Read more →