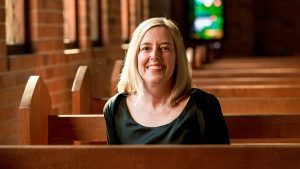 Kodály Australia is proud to congratulate and celebrate member Dr Aleta King who recently completed the Doctor of Musical Arts at the Sydney Conservatorium of Music, The University of Sydney.
Dr King's doctoral research investigated the role of the conductor as musicianship mentor in the rehearsal and performance of three musical works for choir and orchestra. Findings revealed that sequential voice-based musicianship pedagogy provided a purposeful and powerful impact on learning experiences. Please find below a short biography of Dr King, her thesis abstract, and a link to access the full dissertation. I encourage you to engage with this significant work in your professional reading and research.
Biography
Aleta King is director of the Conservatorium of Music at Avondale University College. She is also artistic director of Avondale vocal ensemble, The Promise, and conductor and director of Avondale Choirs and Orchestras. Aleta lectures in musicianship and conducting and is a former lecturer at The University of Queensland, Queensland Conservatorium, and The University of Melbourne. She is a sought after presenter and adjudicator for the Australian Society for Music Education (ASME), Kodály Australia, Australian National Choral Association (ANCA), Music Teachers Association (MTA), Brisbane International Summer Music Program, Kambala School and Conservatorium High School. Aleta has also travelled extensively, studying in Hungary at the Liszt Academy's Kodály Institute where she received the International Kodály Society's Sarolta Kodály Scholarship, the Kodály Institute's Sarolta Kodály Foundation Scholarship, and the Hungarian Government Scholarship.
Thesis Abstract
Conductor as musicianship mentor
https://ses.library.usyd.edu.au/handle/2123/25769
This study investigates the conductor's role as musicianship mentor through the rehearsal and performance process of three works for choir and orchestra. The concept of mentoring is examined through three research stages that parallel the three recitals. In the first stage, twelve participants rehearsing and performing Bach Cantata BWV 182 were asked about their experience of being mentored by the conductor. Questionnaire and focus group data showed that the conductor's musicianship mentoring role was significant to their progress. They found five musicianship elements most important: inner hearing, musical memory, sight-singing, intervals, and solfège. Of these, solfège was perceived as foundational to developing the other four. In the second stage, the conductor's self-mentoring process was analysed using a three-part self-reflective journal during preparation for a performance of Fauré's Requiem. Part A and C explored the core relational aspect of mentoring, while Part B reflected on the conductor's self-mentoring process. In the third stage, four of the original twelve participants were asked about their self-mentoring process during the rehearsal and performance of Karl Jenkins' The Armed Man: Mass for Peace. Participants reported that they had acquired the skills to enable self-mentoring and become early-career mentors over two years between the first and third recitals. Inner hearing, sight-singing, intervals, and solfège were again highlighted, as well as ensemble singing and conducting. Participants felt solfège and sight-singing would be most beneficial in the future. The conductor as musicianship mentor model demonstrates the importance of self-mentoring to mentors and mentees, particularly mentees emerging as mentors. When a pedagogically sequential voice-based musicianship program is intentionally aligned with an ensemble performance program, the resulting synergy has a unique, purposeful, and powerful impact on the teaching and learning environment.
Best wishes
Dr Jason Goopy
President
Kodály Australia
(Kodály Music Education Institute of Australia Incorporated)
www.kodaly.org.au
An affiliated national institutional member of the International Kodály Society
www.iks.hu
In the spirit of reconciliation Kodály Australia acknowledges the Traditional Custodians of country throughout Australia and their connections to land, sea, and community. We pay our respect to their Elders past, present and emerging, and extend that respect to all Aboriginal and Torres Strait Islander peoples today.