Jean Heriot OAM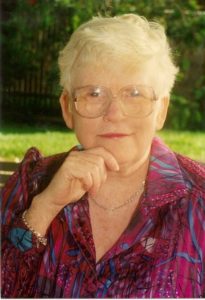 Jean Heriot approached her work with boundless enthusiasm, seemingly endless energy, fierce determination and great passion for her work, students and colleagues. She was a life-long learner and always wanted to know how to do things better. She was committed to improving her own musical and teaching skills so that she could help her students become better musicians. She believed that everything was possible, and encouraged those around her to fulfil their potential.
Jean's early career was as a specialist music teacher working at various schools in the Mildura area, in North Western Victoria. She also ran a boys choir in Mildura at this time.
Jean's greatest achievements in her professional life stemmed from her discovery of Kodaly teaching in the mid-1970s. Jean's first exposure to Kodaly teaching was at an Australian String Teachers Association conference where she heard young violinists singing, playing and reading music in new and exciting ways. She loved the way the students were engaged in their learning, having fun and achieving great results and this set her off on her journey to learn more about Kodaly teaching. This journey first took her to Budapest in 1975 when she joined a contingent of Australians to attend the 2nd International Kodaly Symposium. We need to remember this was very early in the international Kodaly movement, with the International Kodaly Society officially formed at this event (with Australia's Deanna Hoermann as President.)
Jean knew that she had to spend some time in Hungary and with the support of Ken Lyle, her principal at Strathcona where she was teaching Jean successfully applied for a Churchill Fellowship in 1977 to study Kodaly teaching in Hungary. This was a very brave thing to do in many ways. As a minister's wife and the mother of 5 children taking off to Europe for a few months was not something you did lightly, and something that required much planning and support.
On her return from Hungary, Jean was determined to make the most of the opportunity given to her and Strathcona became a hub of Kodaly teaching, with regular international visitors, observers from across Australia and many professional learning workshops held at Featherstone Hall. At the same time, Jean linked up with other pioneers of the Kodaly movement in Victoria and across Australia being part of the establishment of the Kodaly association at both national and state levels. The national body was established in 1976 and the Victorian branch shortly after. Jean was a frequent presenter for the Kodaly association and influenced many teachers through the workshops and courses she ran for KMEIA for many years from this time. In 1979 Jean was invited to bring her Strathcona choir to Sydney to sing at the first International Kodaly Symposium in Australia. This was a big honour and great recognition of Jean's work at that time.
Jean's passion for and championing of Kodaly teaching and quality music education continued in her next role as Music Director at St Margaret's School. She gathered a great team around her and established a model Kodaly classroom program as well as excellent choirs and instrumental ensembles. Many came to St Margaret's to observe the Kodaly program in action, and many overseas experts came to the school to work with the classes and ensembles. I remember as a young teacher being both terrified and exhilarated when the very famous Kati Forrai came to St Margaret's and taught my Grade 2 class in a demonstration session!
In 1986 Jean formed the Berwick Children's Choir to provide opportunities for quality music education and choral performance to those in the Berwick community outside St Margaret's. The choir was of course a great success, undertaking major tours to Europe and New Zealand, producing recordings and providing a quality music education for many young people. The choir continues today as Melbourne Youth Chorale.
Jean's work has been recognised by many. She was awarded honorary life membership of both KMEIA and the Australian Society for Music Education (ASME) in Victoria. KMEIA has a Professional Learning Bursary named after Jean. Jean was awarded a Churchill Fellowship in 1977, was named City of Casey Citizen of the Year 1998 and was awarded the Order of the Medal of Australia 2006. The Music department at St Margaret's School is named in her honour.
Mark O'Leary
Honorary Life Members
Latest News
It is with great sadness that we inform our community of the passing of Honorary Life Member Gabrielle Emery-Reece. Gabrielle made a significant contribution to Kodály Australia through both the Queensland Branch and National Council as a committee member, Vice President …
Read more →
On behalf of Kodály Australia, I write to thank you for your support this year and offer our best wishes for the festive season. I trust that your work for this year is nearing completion and that you will soon …
Read more →
The Kodály Australia National Council were delighted to receive impressive applications and nominations for the 2022 Awards for Excellence in Australian Kodály-inspired Music Education. It was inspiring to see a high number of peer-nominations across each of the five categories. …
Read more →
I am humbled to be elected as President of the Kodály Music Education Institute of Australia. The President along with members of the National Council provide leadership and governance of our association. I look forward to working with the 2022-2024 Council members …
Read more →
On behalf of Kodály Australia, I write to thank you for your support this year and offer our season's greetings. I trust your work has now wrapped up for the year, and you are celebrating the festive season with family …
Read more →