Glenys Gijsbers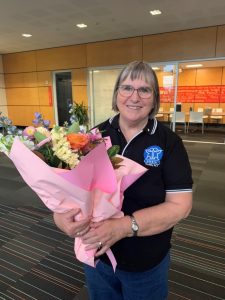 As a past National Membership Secretary and Conference Convenor, I am well-aware of the significant contribution made to the Kodály Australia community by Glenys Gijsbers.
Glenys has demonstrated longstanding commitment, loyalty and service as the administrator and public face of seven Kodály Australia National Conferences (beginning in Canberra 2008 and coming full circle back to Canberra in 2022). She has offered outstanding service as Kodály Victoria Branch Administrator (2004-2018) which included leading the coordination of 12 very successful Autumn Seminars. Furthermore Glenys has provided significant professional service supporting projects of Kodály NSW and Kodály WA.
What many may not know is that this journey for Glenys began through her commitment to Kodály-inspired music education as a parent and volunteer supporting the work of the Young Voices of Melbourne. Her support continued through the fostering of positive relationships and being an advocate of for Kodály-inspired music education through professional service to other music education organisations including the Victorian Orff Schulwerk Association (VOSA), the Australian National Council of Orff-Schulwerk (ANCOS), The Australian Music Association (AMA), Australian National Choral Association (ANCA) and the Australian Society for Music Education (ASME).
Ultimately it is her generosity of spirit through supporting all those interested in Kodály-inspired music education, often serving as the first point of contact for those engaging with our community that has made her such an inspiring model of service and commitment. It is for these reasons that National Council has awarded Glenys Gijsbers with Honorary Life Membership of Kodály Australia.
Jason Boron
29 September 2022
Honorary Life Members
Latest News
It is with great sadness that we inform our community of the passing of Honorary Life Member Gabrielle Emery-Reece. Gabrielle made a significant contribution to Kodály Australia through both the Queensland Branch and National Council as a committee member, Vice President …
Read more →
On behalf of Kodály Australia, I write to thank you for your support this year and offer our best wishes for the festive season. I trust that your work for this year is nearing completion and that you will soon …
Read more →
The Kodály Australia National Council were delighted to receive impressive applications and nominations for the 2022 Awards for Excellence in Australian Kodály-inspired Music Education. It was inspiring to see a high number of peer-nominations across each of the five categories. …
Read more →
I am humbled to be elected as President of the Kodály Music Education Institute of Australia. The President along with members of the National Council provide leadership and governance of our association. I look forward to working with the 2022-2024 Council members …
Read more →
On behalf of Kodály Australia, I write to thank you for your support this year and offer our season's greetings. I trust your work has now wrapped up for the year, and you are celebrating the festive season with family …
Read more →