Debbie O'Shea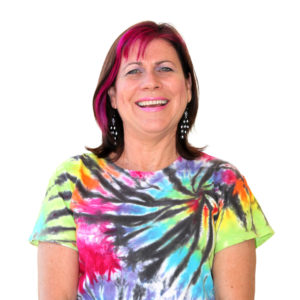 Debbie O'Shea is a Primary School Music Specialist who currently teaches at The Gap State School in Brisbane. She is an advocate of voiced-based music education for everyone.
Debbie has had an extensive career teaching and coordinating music programs from Preschool to University level and developing teaching materials for music educators.
Debbie has taught in State Schools, Catholic Schools and Independent Schools in Cairns and Brisbane. During her time in Cairns, Debbie was instrumental in forming the Cairns Chapter of KMEIA Qld and arranging in-service opportunities for teachers in the area, including the Kodaly Certificate Courses. She has also taught Early Childhood classes at the Queensland Conservatorium of Music.
Debbie had a significant role as Manager of the Outsourced Writing Team for the Music Outcomes, Years 1 to 10 The Arts Syllabus; Queensland's Syllabus Document. Other roles for her have included casual lecturer in Music Education at Griffith University, lecturing in Summer Schools in Methodology, Practicum and Musicianship for 14 years in Qld, and lecturing in similar courses in Sydney and other states. She also taught musicianship classes with Brisbane Birralee Voices and has written and presented professional development materials for other organisations such as Musica Viva in Schools and Music Count Us In. Debbie appears as a demonstration teacher on KMEIA Qld's successful Music in the Middle Years DVD package and contributed to the writing of materials for this resource.
In 2000, Debbie founded Crescendo Music Education, a business organisation that has been providing extensive professional development courses and resources and materials for music educators. In her work with Crescendo and in a wide variety of other contexts she has had an enormous output and made a strong contribution to Music education.
Debbie's International presentations include a trip to the USA in 2015, where she presented at two conferences for American Music Educators one in Georgia and one in Minneapolis, which were both well received.
Over many years, Debbie has involved herself at significant levels with the Kodály Music Education Institute Incorporated (KMEIA Inc) National Council and the Queensland Branch.
At the age of 18 as a pre-service student, Debbie became a member of the KMEIA (Qld) committee and remained on the committee for over 20 years with roles including President, Treasurer and organising-committee member for Holy Names College Brisbane Summer Programs and the subsequent Brisbane Kodály Summer Institutes. After a few years off, Debbie has returned to the KMEIA Qld committee. She also served for a number of years on the National Council of the Kodály Institute including a term as Vice-President.
Debbie's support and Kodály inspired work for Music teachers is demonstrated through her KMEIA committee work and also Crescendo work. Her further support for Music teachers includes maintaining a YouTube Channel with over 1,300 subscribers, Pinterest with over 1400 followers, a Facebook page with over 1200 likes, a Facebook Community Group with 380 members, and a monthly newsletter that goes to 1,600 music teachers around the world.  Debbie is also very active in supporting Education Queensland State School Music Teachers through their networks.
Debbie has amazing energy and drive that she uses to advantage in assisting teachers, and in her dedication to the Kodály approach.
Honorary Life Members
Latest News
It is with great sadness that we inform our community of the passing of Honorary Life Member Gabrielle Emery-Reece. Gabrielle made a significant contribution to Kodály Australia through both the Queensland Branch and National Council as a committee member, Vice President …
Read more →
On behalf of Kodály Australia, I write to thank you for your support this year and offer our best wishes for the festive season. I trust that your work for this year is nearing completion and that you will soon …
Read more →
The Kodály Australia National Council were delighted to receive impressive applications and nominations for the 2022 Awards for Excellence in Australian Kodály-inspired Music Education. It was inspiring to see a high number of peer-nominations across each of the five categories. …
Read more →
I am humbled to be elected as President of the Kodály Music Education Institute of Australia. The President along with members of the National Council provide leadership and governance of our association. I look forward to working with the 2022-2024 Council members …
Read more →
On behalf of Kodály Australia, I write to thank you for your support this year and offer our season's greetings. I trust your work has now wrapped up for the year, and you are celebrating the festive season with family …
Read more →