Celia Christmass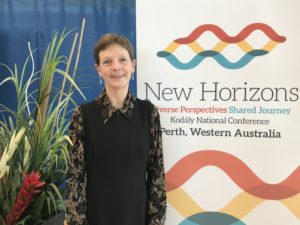 Celia Christmass exemplifies the vision and innovation of Zoltán Kodály and has been at the forefront in the implementation of the pedagogy in Western Australia for the past 30 years, predominantly through her work within the Music Program at Perth Modern School.
The attributes that former students recall about Celia Christmass is her strength as an educator, and her warmth and generosity as a human being. Celia has the gift of instilling confidence in young people,  while guiding her students through their learning, whether it is in the classroom or in choir with ease. These characteristics of Celia have been clearly visible from the very beginning.
Celia began her teaching career after graduating from the University of Western Australia with a Bachelor of Music Education. In 1989 Celia received a scholarship from the Hungarian Government and spent a year studying at the Zoltán Kodály Pedagogical Institute in Kecskemét, Hungary. At the conclusion of that year Celia was awarded the Sárolta Kodály Scholarship, which allowed her to continue her studies for a second year.
After her time in Hungary Celia then enrolled in the post-graduate program at Holy Names University (US) where, in 1992, she completed her Master's Degree in Music Education.  Upon completion of her studies in Hungary and the United States Celia returned to Western Australia and her work in the Music Program at Perth Modern School.
Celia's adaptation of the Kodály philosophy is visible in all facets of the music curriculum at Perth Modern School – classroom, choral and instrumental, where her use of the pedagogy within the band program is her latest innovation.
Under her directorship the choirs of Perth Modern School have performed on the national and international stage, completing tours to many countries within Asia and Europe, and have sung in venues including Westminster Abbey, St Mark's Basilica, and at Villers Bretonneux.
As a music teacher of the highest calibre, Celia has brought the joy of music through the Kodály philosophy to hundreds of primary and secondary students in both the public and private educational systems. Celia's ongoing commitment to education resulted in her being awarded in 2001 an ASG National Excellence in Teaching Award.
In addition to her work at Perth Modern School Celia has been involved as an educator and conductor with the University of Western Australia Junior Music School, Aaralyn Children's Choir and Naya Chorale
Celia's dedication to the practice of music education can be seen in the manner in which she is viewed by her former students, many of whom have engaged in diverse careers within music and music education. Many speak of the manner in which she offers her support, encouragement and expertise, never failing in her quest to offer guidance  gained from many years of exemplary pedagogical practice.
Celia has shared her expertise as a presenter at workshops at a state and national level, as lecturer for the Australian Kodály Certificate course run by KMEIA WA. She has also presented workshops in Kodály methodology for ASME, KMEIA and ANCOS.
Her passion for beautiful music, beautiful musical experiences and for ensuring that her students have access to those, has ignited the ambition in the next generation of students, who have been inspired to do the same because of Celia's encouragement.
She is highly regarded as an advocate for quality music education in Western Australia and has left an indelible imprint on the music community, as well as being a source of inspiration for those who follow her.
Honorary Life Members
Latest News
It is with great sadness that we inform our community of the passing of Honorary Life Member Gabrielle Emery-Reece. Gabrielle made a significant contribution to Kodály Australia through both the Queensland Branch and National Council as a committee member, Vice President …
Read more →
On behalf of Kodály Australia, I write to thank you for your support this year and offer our best wishes for the festive season. I trust that your work for this year is nearing completion and that you will soon …
Read more →
The Kodály Australia National Council were delighted to receive impressive applications and nominations for the 2022 Awards for Excellence in Australian Kodály-inspired Music Education. It was inspiring to see a high number of peer-nominations across each of the five categories. …
Read more →
I am humbled to be elected as President of the Kodály Music Education Institute of Australia. The President along with members of the National Council provide leadership and governance of our association. I look forward to working with the 2022-2024 Council members …
Read more →
On behalf of Kodály Australia, I write to thank you for your support this year and offer our season's greetings. I trust your work has now wrapped up for the year, and you are celebrating the festive season with family …
Read more →