We are delighted to announce that Dr. László Norbert Nemes will be our third Key presenter joining Dr Anita Collins and Dr Árpád Tóth.
Announcing Dr. László Norbert Nemes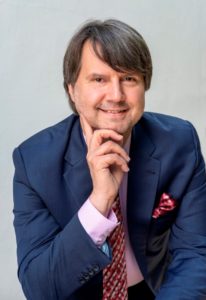 László is currently professor at the Liszt Ferenc Academy of Music in Budapest and director of the International Kodály Institute of the Liszt Academy. His main areas of expertise are the theory and the practice of the Kodály Concept, musicianship training according to the Kodály Concept, choral conducting and choral music education. He is the leader of the joint research programme of the Hungarian Academy of Sciences and the Liszt Ferenc Academy of Music "Active Music Learning with Singing and Movement" aiming at further enriching Hungarian music educational programmes both at primary and secondary levels. Besides teaching he maintains an active career as a choral conductor. Since September 2014 he has been artistic director of the New Liszt Ferenc Chamber Choir, the artist-in-residence choral ensemble of the Liszt Academy. In 2018 he founded the National Youth Choir of Hungary. László Nemes has conducted, taught, held workshops, master classes and seminars all across Europe, in Australia, Brazil, Canada, the People's Republic of China, Indonesia, Japan, the Korean Republic, Malaysia, The Philippines, Republic of China/Taiwan, Singapore and the United States of America several times. He is guest professor at the Central Conservatory of Music in Beijing, China. In recognition of his artistic activities he received the Bartók-Pásztory Award in 2005. In March 2017 he was decorated with the Golden Cross of the Hungarian Cross of Merit. He is vice president of the International Kodály Society, patron of music education at National Youth Choir of Scotland, and honorary member of the British Kodály Academy.
And watch this space for more news soon!
Registrations NOW OPEN!
We are very pleased to announce that Registrations are now open! All prices and details are on the website on the registration page here 
Spring into Song: Sustaining the Vision invites music educators and the broader community to reflect on Kodály-inspired research and practice in the 21st Century. The conference will celebrate our diversity of culture and educational contexts as well as new growth and innovation, re-imagining Kodály's vision and its application in Australia today.
Call for Presenters and performers Deadlines coming up!
The ACT Branch of the Kodály Music Education Institute of Australia (Kodály ACT) invites educators, researchers, academics, composers, conductors, musicologists, ethnomusicologists and performers working with people of all ages to submit an application to present an Elective Workshop, Paper, Posters or Concert (Lunchtime or Evening) at the 2020 Kodály Australia Conference. Sessions showcasing Kodály inspired practice are invited which addresses any aspect of the conference theme.
Applications for Performing Groups close on Friday 29th November 2019
Applications for Papers, Posters and Workshops close on Friday 13th December 201
Please visit our website: http://kodalynationalconference.org.au/call-for-presenters-and-performers/ for further information
Delegate registrations are not open just yet, but if presenting or performing is not your thing and you want to be part of this great event, register your interest here: http://kodalynationalconference.org.au/register/
Traders and Sponsors
We are pleased to announce that the following organisations have confirmed that they will trading:
The Devirra Group
Kodaly Crafts
Music Ednet
World Projects
We hope to add more to the list soon. If you are interested in sponsorship and trader opportunities please check the website and get in touch
Remember to 'save the date' and plan to 'Spring into Song' at the Kodály Australia Conference in the beautiful city of Canberra at Canberra Girls Grammar School (CGGS) from Monday 28 September – Thursday 1 October 2020!
Please do not hesitate to contact me with any questions. I look forward to hearing back from you.
Kind Regards,
Glenys