Anne Comiskey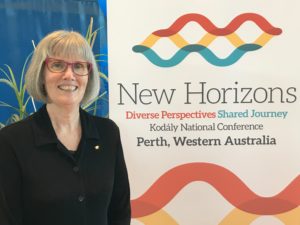 Anne Comiskey has had an extensive career teaching and coordinating music programs from preschool to university level and developing teaching materials for music educators. She is a passionate advocate of the accessibility of voiced-based music education for everyone and holds a Bachelor of Music from the University of Queensland and a Master of Music Education from Holy Names College in California.
In the 1980s, Anne was a member of the KMEIA (Qld) committee, with roles including treasurer and organising-committee member for Holy Names College Brisbane summer programs and the subsequent Brisbane Kodály Summer Institutes.
Anne began her tertiary teaching career lecturing in methodology and musicianship at the 1989 and 1990 Holy Names College summer programs in Brisbane and was invited to teach as guest international lecturer in the Holy Names College Kodály program in Oakland, California, for the 1990 Spring and Summer semesters (January-August). Sr Mary Alice Hein was the director of the program at the time and Anne was replacing Dr Rita Klinger who was on sabbatical.
On her return to Australia, Anne was appointed Course Leader for Education Queensland's statewide 10-week (300 hr) Music In-service Courses, training existing music teacher staff, and musically-qualified general class teachers in the methodology to implement a developmental voice-based program for classroom music and to develop their own personal musicianship skills to a significantly higher level. The 10-week courses were held in all major cities in Queensland and were residential for teachers normally living outside the regional centres. During this time, Anne continued her teaching at KMEIA accreditation courses and seminars in Brisbane, Sydney, Mackay and Far North Queensland. She also taught at the Cairns and Mackay Winter schools.
From 2005 to 2010 Anne was an Associate Professor at the Hartt School, the tertiary music college of the University of Hartford, Connecticut, USA, teaching ear training and ear training pedagogy. The Hartt School is recognised for the Kodály-inspired ear training program undertaken by all undergraduate and graduate music students.
As a member of the University of Hartford faculty and community, Anne was awarded the honour of participating in the 2009-10 Laura Johnson Initiative for Women Leaders. During her time at the University of Hartford, Anne served as a member of the Faculty Senate, the Faculty Senate Curriculum Committee, the University Sabbatical Committee, the Faculty Senate Executive, Chair of the International Studies Committee of the Faculty Senate and on the President's Commission on the Status of Women.
During her time in the USA, Anne was invited to chair a forum at the Holy Names Kodály Program 40th Anniversary celebrations. She presented at OAKE national conferences and at the 2007 International Kodály Symposium, introducing delegates to an Australian application of Kodály-inspired teaching and learning, and to the significant Kodály-inspired program in Queensland state primary education at the time.
Anne continues her involvement in Kodály teacher education around the country, recently at the 2012 and 2014 Kodály Autumn Seminars in Melbourne, the 2016 and 2018 Australian Kodály Accreditation Course for KMEIA WA and the 2017 Back to School Day for KMEIA NSW. Anne's passion is for inspiring and motivating learners, regardless of age, to develop confidence in their own abilities to learn about and through music using their voice.
Ann Carroll
Honorary Life Members
Latest News
The International Kodály Society offers fee waiver scholarships to support participation in Kodály-inspired professional development. The closing date is 1 November 2023. Full information including selection criteria and eligibility is available on the IKS website. With best wishes Jason Boron …
Read more →
It is with great sadness that we inform our community of the passing of Honorary Life Member Ann Carroll. Ann made a significant contribution to Kodály Australia through service as a member of National Council (2008-2020), Editor of the Australian …
Read more →
It is with great excitement that we look forward to the next Kodály Australia Conference to be held in NAARM / Melbourne on September 23 – 26, 2024. Preparations are well underway and the Call for Presentations close this Sunday 15 October 2023. I strongly …
Read more →
It is with great sadness that we inform our community of the passing of Honorary Life Member Gabrielle Emery-Reece. Gabrielle made a significant contribution to Kodály Australia through both the Queensland Branch and National Council as a committee member, Vice President …
Read more →
On behalf of Kodály Australia, I write to thank you for your support this year and offer our best wishes for the festive season. I trust that your work for this year is nearing completion and that you will soon …
Read more →