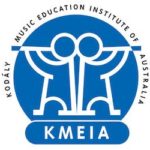 I am excited to announce beginning today The Kodály Music Education Institute of Australia Incorporated (KMEIA Inc.) will also be known as
Kodály Australia
. Over the coming months, you will see the gradual rebranding of our communications and documentation, including on our websites, social media, promotional material, newsletters and correspondence.
After a year of consultation around the country, we have determined that Kodály Australia succinctly captures our identity and core business, Kodály-inspired Australian music education. This name also pays clear homage to Zoltán Kodály and his intention for his ideas to be adapted around the world. Sometimes Kodály's lifework is misunderstood and name pronounced incorrectly (listen here for the correct pronunciation). Rather than shy away from these issues, we have decided to take the bold path of directly tackling and shaping conversations about who we are and what we stand for in contemporary Australian music education.
Part of this rebrand process is moving towards national consistency. Our branches and chapters around the country will also be known as the following from today:
Kodály Australian Capital Territory
Kodály New South Wales
Kodály Queensland including Kodály Mackay and Kodály Townsville
Kodály South Australia
Kodály Victoria
Kodály Western Australia
While we might be refining our corporate image, we take pride in our past and our longstanding vision for Australian music education. Our registered legal name will remain as The Kodály Music Education Institute of Australia Incorporated and logo unchanged. Kodály Australia will continue to champion high-quality music education for all delivered by highly-skilled music educators. We will go on to offer and improve our excellent professional learning events, valuable resources and welcoming networking opportunities.
I thank you for your continued support and look forward to your future involvement in Kodály Australia.
Best wishes
Jason Goopy
President
Kodály Australia
(Kodály Music Education Institute of Australia Incorporated)
www.kodaly.org.au