Events by Category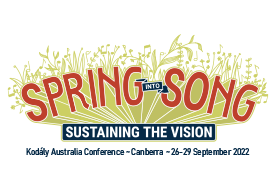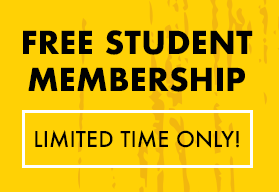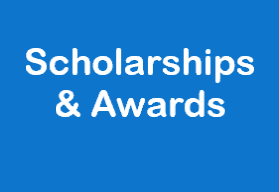 WA: Spring into Kodály / AGM
November 5 @ 9:00 am

-

4:30 pm
Spring Into Kodály
Come and join us for our first face to face event this year, Spring into Kodály. We are excited to offer you a day where we can come together as a community, refresh our skills, and learn new ideas for the Primary and Secondary classroom. Immerse yourself back into Musicianship, and be inspired by sessions in Methodology, Instrumental, and Choir. Are you a tertiary student? We will be offering a session just for you with all the tips and tricks to help you in the Music classroom!
Date: Saturday 5 November 2022
Time: 9:00am to 4:45pm (Registration commences 8:30am)
Venue: Edith Cowan University, Mount Lawley Campus (School of Education, Building 16)
Cost: Members $72, Non-Members $142 (includes membership), Student Members FREE!
Catering: Morning Tea and Lunch Provided
Timetable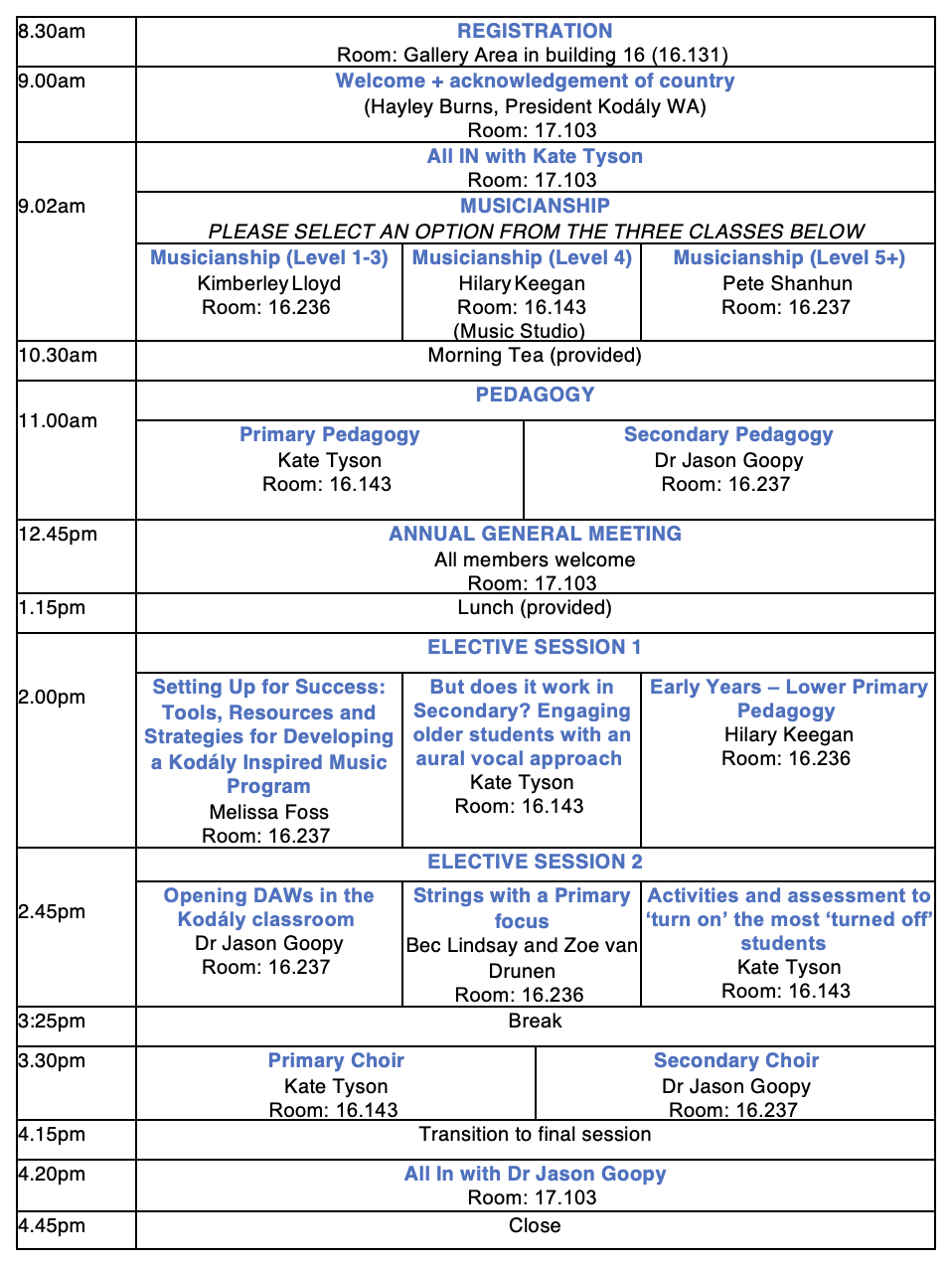 Presenter Biographies
Kate Tyson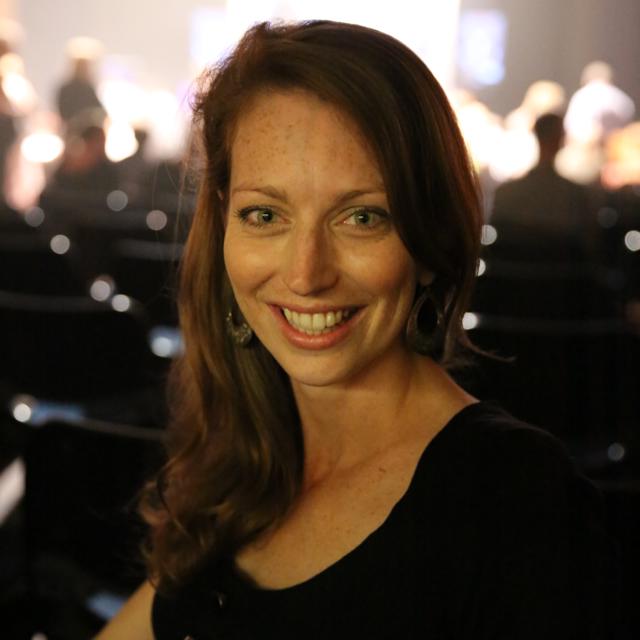 Kate Tyson (née Thompson) is a frequent guest clinician at conferences and workshops across Australia and the Asia-Pacific region. Kate has taught classroom music for fifteen years at both state and independent schools and is currently the Coordinator of Curriculum Music at Ambrose Treacy College in Brisbane.  She is a Past President of Kodaly Queensland and loves finding new ways to engage her choral and classroom music students.
Presentation 1 (All In Session): A community sing to start the day – a mashup of a hymn & pop song for your classroom students or for your choir 
Presentation 2 (Primary Methodology): Engaging activities for all ages that promote the development of musicianship through both rigor and creativity  
Presentation 3 (Elective Session): But does it work in Secondary? Engaging older students with an aural vocal approach 
Presentation 4 (Elective Session): Activities and assessment to 'turn on' the most 'turned off' students  
Presentation 5 (Primary Choirs): Music to Everyone's Ears: developing a choral program that meets the needs of you, your singers, your organisation and your concertgoers   
Melissa Foss
WINNER: 2022 Award for Excellence in Kodály Education (Early Career)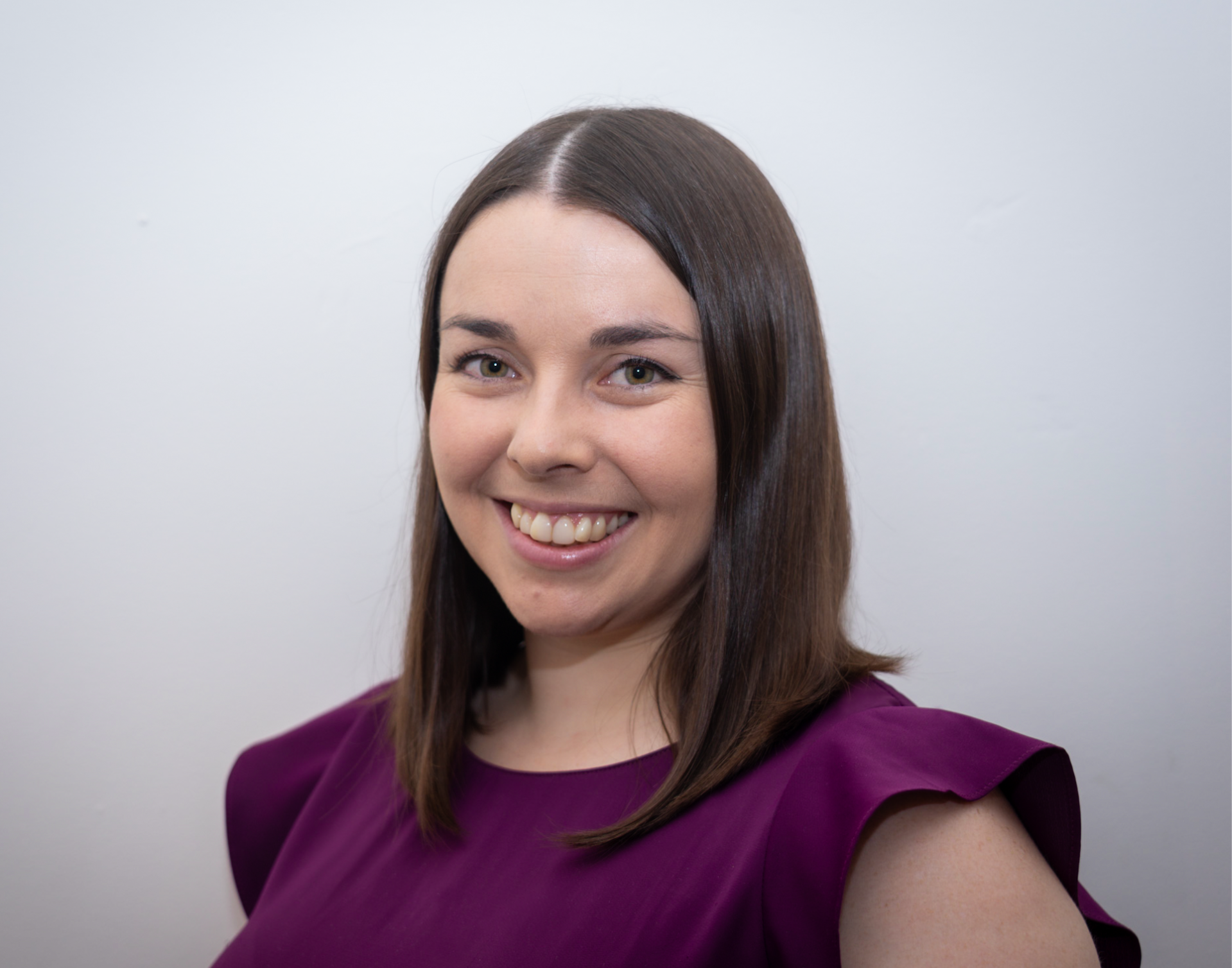 Melissa Foss is a Primary Music Teacher currently working at Bannister Creek Primary School in Perth, Western Australia. She teaches music to students from Kindergarten through to Year 6, with the co-curricular ensembles of Senior Choir, Junior Choir and Concert Band. Outside of school, Melissa spends her Saturday's teaching Junior Musicianship and Choir to the Smalley ensemble of Western Australian Young Voices (WAYV) and continues to teach private piano students after school. 
Since her first music education unit at University, Melissa has sought out as many professional development opportunities as were available and was particularly drawn to the Kodály philosophy and approach to music education. She has since completed the Primary 1 and Secondary 1 levels of the AKC, in addition to a large number of Kodály courses and seminars locally, interstate and internationally. She believes all students deserve a high quality music education with singing at its core to create a holistic, joyful and engaging program, where all students can find success and develop a love of music. Melissa is highly dedicated and deeply passionate about promoting best practice in music education and believes the Kodály approach embodies this. She currently serves as Secretary on the Kodály WA Branch, and works towards sharing this vision with all. 
Presentation 1 (Elective Session): Setting Up for Success: Tools, Resources and Strategies for developing a Kodály Inspired Music Program 
Developing a Kodály inspired music program can be overwhelming and knowing where to start and what to prioritise can be a challenge. This session is aimed at teachers who are early in their career, newer to the Kodály approach, or wanting to work out how to implement it more in their classroom. Participants will come away with ideas for short to long term planning, lesson structures, routines, transitions, using instruments and recommended resources. There will also be discussion around starting in a new school and where to start when the Kodály approach has not previously been used with students before.  
Dr Jason Goopy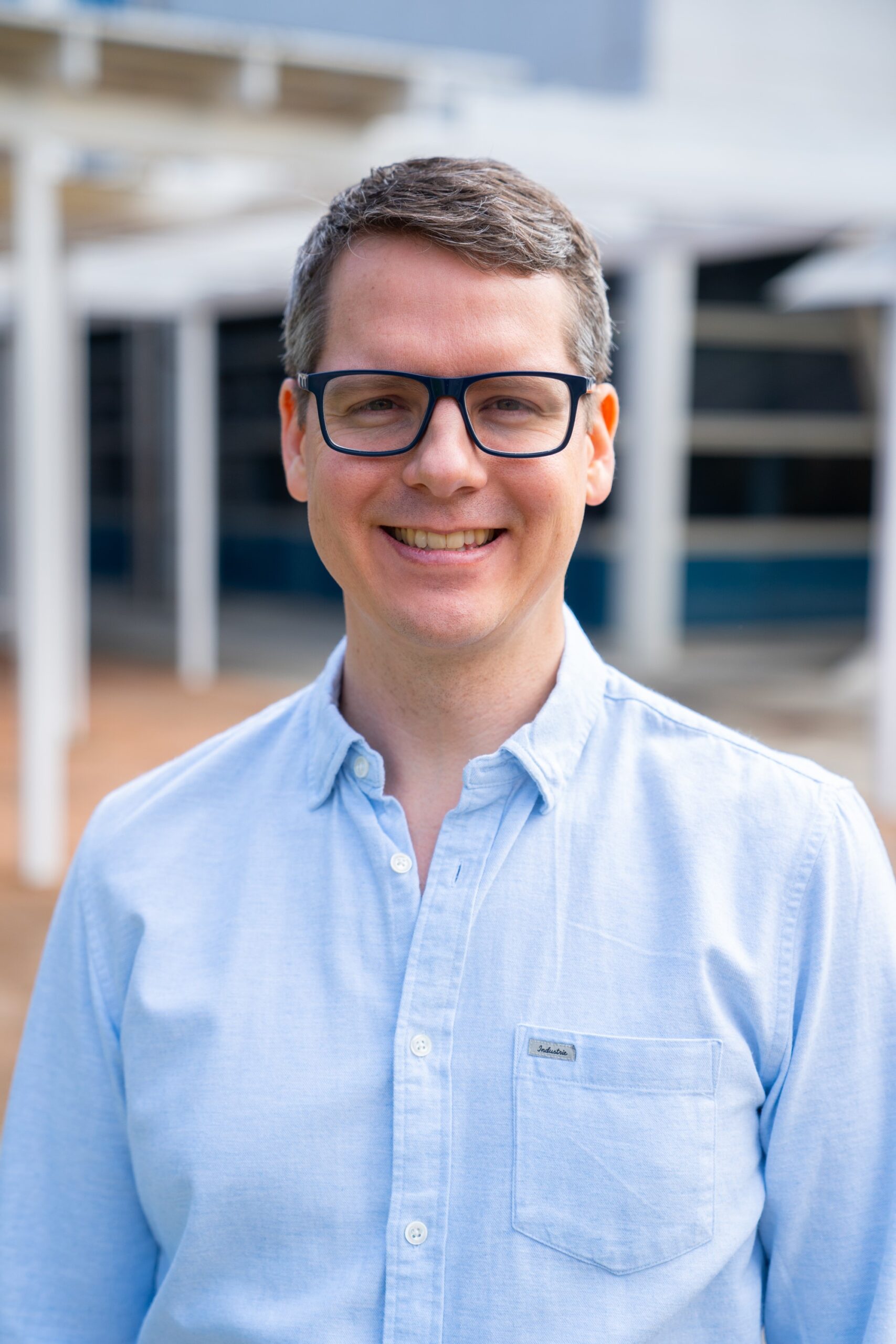 Dr Jason Goopy is a Lecturer in Music Education at Edith Cowan University and coordinates secondary school and instrumental music education. He has previously held sessional academic roles at The University of Queensland and Griffith University and draws upon 15 years of leading arts programs and teaching music in Queensland combined primary and secondary schools. 
 
Jason's research investigates the interface between music education and music psychology using arts-based research methods. His doctoral research received the Australian Society for Music Education Callaway Doctoral Award for investigating the role of music in boys' lives and the contributions of school music to their identity construction. He serves on the editorial boards of the International Journal of Music Education and the International Journal of Research in Choral Singing. 
 
Jason is the Vice President of the Australian Society for Music Education, Immediate Past President of Kodály Australia, and is an Advisory Group member for the Alberts Tony Foundation philanthropic project, Music Education: Right from the Start. 
Presentation 1 (Secondary Methodology): Backward mapping from the new ATAR syllabuses 
The new ATAR Years 11 and 12 Music Syllabuses are the start of an exciting chapter for music education in WA. Significant changes include opportunities for learning to now connect Western Art, jazz and contemporary styles, supplementary works, authentic composition for all students, and a focus on analysing music elements rather than historical facts. These syllabus changes will require a rethink of how lower secondary music prepares students for the senior years. This session will explore possibilities of how music learning in Years 7-10 could be backward mapped from the new ATAR syllabuses. 
Presentation 2 (Elective Session): Opening DAWs in the Kodály classroom 
Digital musicianship is a required skill for musicians of the future. Digital Audio Workstations (DAWs) allow for the digital recording, editing and production of audio files and present an opportunity to augment your existing classroom music program. This session will open doors by demystifying the popular digital audio software title, SoundTrap. Foundational audio production concepts situated in the singing-based classroom will be introduced relevant to upper primary and secondary teachers. Participants will be empowered to begin experimenting with DAWs in their teaching and music making. This session will involve participant participation and collaboration. You are encouraged to bring a mobile device to the session, pre-register for the free version of SoundTrap, and connect to the ECU Guest WiFi. 
Presentation 3 (Secondary Choirs): Come for the singing, but stay for the learning 
The choral rehearsal can be a powerful music learning experience that complements and enriches the classroom program. Students will find meaning in rehearsals that continue to develop and extend their personal and collective music knowledge, skills and understanding. This session will explore opportunities to seamlessly integrate classroom pedagogy into the secondary school choral program. Choir will be adopted as another music learning opportunity and draw upon pedagogical strategies from the classroom such as planning, scaffolding, use of musicianship tools, singing technique and developing student musical independence.  
Presentation 4 (All in Session): End the day with singing games applicable to upper primary and lower secondary.  
Hilary Keegan
Hilary Keegan studied Music Education at Trinity College Dublin, Ireland, the Kodály Institute in Hungary and was awarded the highest Honors in her Masters of Music, in Music Education (with a Kodály emphasis), from Holy Names University, California, under the direction of Maree Hennessy. Hilary is currently enjoying her maternity leave from PLC, Perth with her daughter, Shannon Elodie. At PLC Hilary taught students from Pre-Kindy (age 3) to Senior School classes and is the Head of Choral.  
Hilary lectures the Music Education component of the Masters in Early Childhood Education and the Bachelor of Education (Primary) at ECU, and the Primary 2 Australian Kodály Certificate in 2021, and has also completed First Steps in Music Education Certificate with John Feierabend in recent years.  
While on maternity leave, she has established a music school; School of Musical Heartbeats, a place where musical heartbeats are made for life, with group Music classes on offer for Newborns to age 7 Children, Adults Musicianship classes and Teacher workshops. Hilary also directs the Irish Choir Perth and thoroughly enjoys presenting at professional development courses for Early Years, General Primary, Secondary and Specialists Music teachers. 
Presentation 1: New to Musicianship (Level 4) 
If this is your first Kodály training experience and you have an undergraduate qualification in music and/or music education then Musicianship Level 4 is for you! An active, engaging session to develop your musical skills in sight-reading, score reading, aural perception, musical dictation and analysis using the tools of the Kodály approach; Solfage, Rhythm Syllables and Hand Signs. 
Presentation 2: Early Years to Lower Primary Methodology 
Actively engage in music making activities for Early Years to Lower Primary students. Immerse yourself in dances, repertoire, games, ideas, activities and song stories to develop your students' musicianship skills. The main focus is to develop readiness skills in preparation for a deeper understanding of the Musical Elements at a later date. It is through experiencing and doing that one will learn best. 
Kimberley Lloyd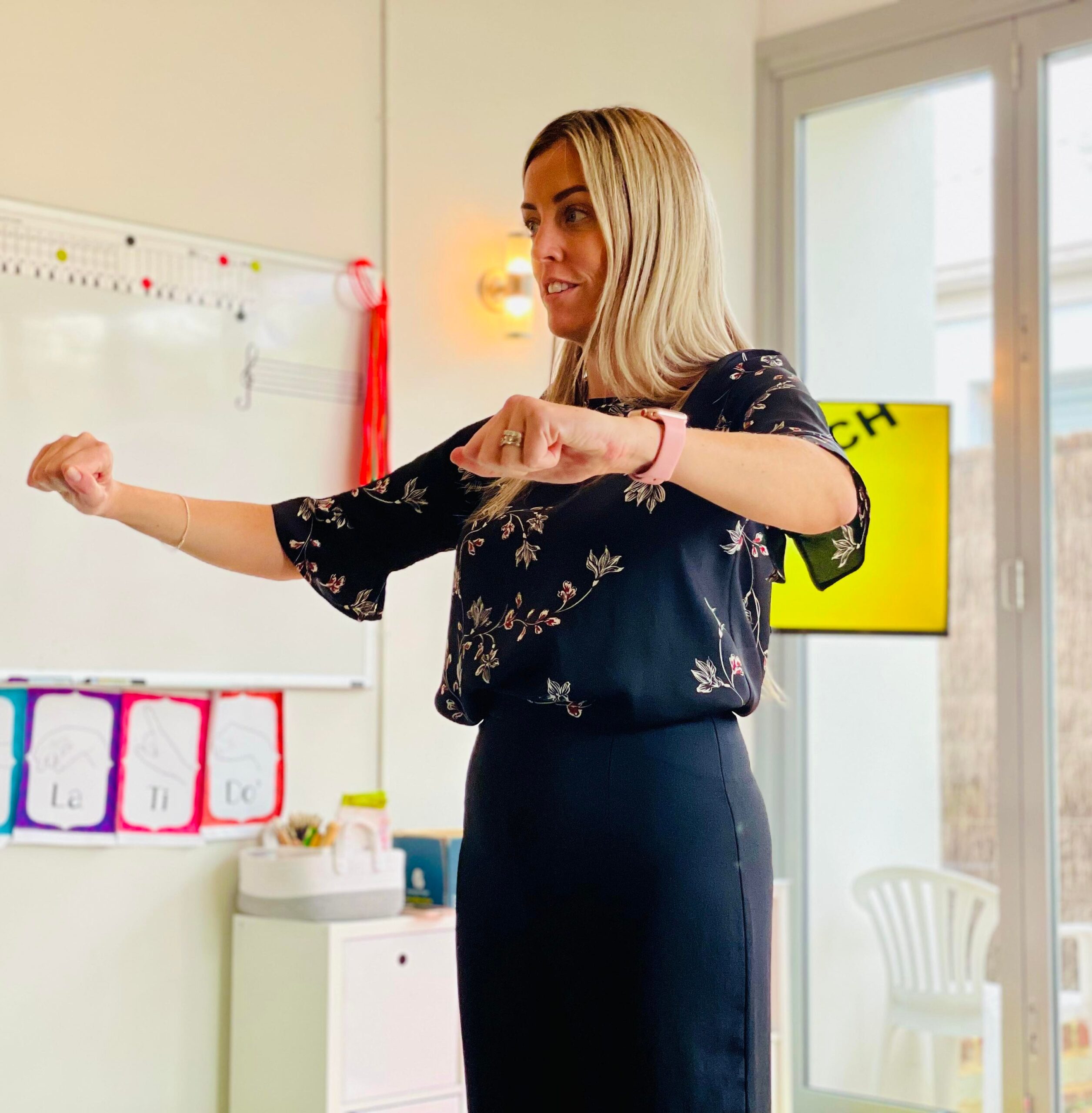 Kimberley Lloyd is a music teacher at Trinity College in East Perth. She is an experienced music educator having taught in Scotland, America and Australia in Early Childhood, Primary and Secondary Education. Along with her Bachelor of Education in Music, from the Royal Conservatoire of Scotland, Kimberley holds the Australian Kodály Certificate in Secondary Education, and her Master of Music in Music Education with Kodály Emphasis from Holy Names University, California. Kimberley recently launched Little House of Music, a school offering group music classes to children and adults and Professional Development Opportunities for music teachers. Kimberley also enjoys lecturing at Edith Cowan University and working with future teachers, whilst continuing her own private studies.  
Presentation 1: Musicianship (Level 1-3) 
Would you love the ability to think in sound? If you answered YES, then sign up to this Beginner Musicianship Class.  Develop your sight-singing, aural perception, musical dictation and analysis using the tools of the Kodály approach (tonic sol-fa, rhythm syllables and Curwen hand signs). 
Peter Shanhun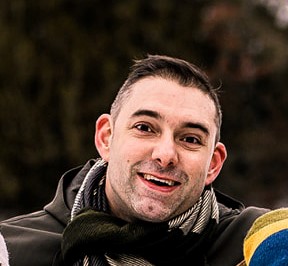 Peter Shanhun has 20 years of diverse teaching experience in Western Australia, including Classroom Music from K – 12 and Voice and Choir in numerous contexts. Peter served as president of the Kodály Music Education Institute of Australia, Western Australian Branch from 2016 – 2017. He has completed the Australian Kodály Certificate and completed a Masters in Kodály Music Pedagogy at the Kodály Institute of the Liszt Academy in Kecskemét. Following teaching at Trinity College, he is now enjoying the beach lifestyle in Dawesville when he is not the Head of Arts at Foundation Christian College. 
Presentation 1 (Musicianship 5+): Forming Relationships 
A hands-on exploration of form in Viennese Classicism. We will begin by exploring relationships in simple melodies, and culminate in Haydn's Symphony No. 3. No set musicianship level is required, but participants will need a healthy sense of adventure, a willingness to sing and dance, and an openness to forming relationships. 
Zoe van Drunen and Rebecca Lindsay
Zoë van Drunen is a violinist, conductor and music educator with over 20 years' experience as a teacher and performer in Australia and overseas. In her role as Coordinator of Strings at Hale school she leads a team of 13 string staff and around 250 string students from year 2-12, which includes six string orchestras and a classroom ensemble playing based program. 
Rebecca Lindsay is an enthusiastic primary music educator with experience teaching and co-ordinating music programmes in Australia and overseas. She is currently the Coordinator of Primary Music at Hale School and supports the teaching, planning and development of the PP – Year 6 curriculum and co-curriculum music programme. In her role as teacher and coordinator, Rebecca has the pleasure of working and collaborating with over 400 amazing young musicians and inspiring educators from across the Music Department, Junior School and Instrumental Peripatetic staff. 
Presentation 1 (Elective Session): Strings with a Primary Focus
How can we integrate Kodaly concepts into the classroom ensemble setting? Join Rebecca and Zoë to explore and experience some of the approaches and materials they use in their classroom ensemble programme at Hale Junior School. The session will be of interest to classroom and ensemble teachers alike and will encompass classroom music, instrumental learning, and ensemble playing with a strings focus. If you are a 'stringy' or 'would-be stringy' we would love for you to bring your violin, viola, cello or bass along to have some fun joining in with the playing activities!