Tess Laird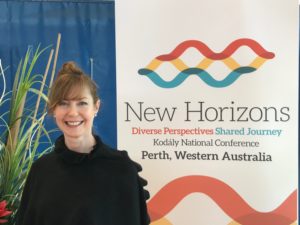 Tess Laird is an experienced Education Queensland primary music specialist, committed member of the KMEIA National Council and in demand as an Australian Kodály Certificate Course lecturer and KMEIA workshop presenter. She is highly qualified with a Master of Music Studies from the University of Queensland and a highly skilled musician in her own right with two Associate Diplomas in Music from the AMEB in Singing and Piano. She has completed the Australian Kodály Certificate in Primary Music Education and the revered Queensland 10 Week Teacher In-service Course.
Tess has demonstrated a longstanding commitment to state education teaching exclusively in Queensland state primary schools for nearly 30 years. She recently celebrated 20 years at Middle Ridge State School in Toowoomba. As a beginning teacher she completed the Queensland Department of Education 10 Week full-time Teacher In-service Course which has laid the foundation for Tess to dedicate a career to providing Queensland children with quality music education. Tess is also an inspiring model in Kodály-inspired practice, and regularly mentors and opens her classroom to others.
Since 2004 to present, Tess has demonstrated significant service to KMEIA as a member of the National Council in various roles including Ordinary Council Member, a member of numerous committees, Education Committee Convenor, Vice-President, and National President. On behalf of members she led KMEIA's national response to the Australian Curriculum and the Victorian Parliament Enquiry into the Benefits of Music Education. In 2008, Tess compiled a series of pentatonic exercises on an interactive audio CD called "Purely Pentatonic" in which she donates all proceeds back to KMEIA.
Soon after completing her own Australian Kodály Certificate in primary music education, Tess became a Lecturer for the AKC and has done so for over 20 years. She is personally responsible for many AKC primary graduates around the country. Tess has lectured as part of the AKC in Brisbane including as Casual Academic Staff at the University of Queensland in postgraduate courses, and in Sydney and Perth.
In her role as the KMEIA National Council Education Committee Convenor, for 10 years she has led the oversight of the AKC which is delivered in Brisbane, Melbourne, Sydney, Adelaide and Perth. She continues to mark Level 3 teaching demonstration videos and process AKC applications in her own time.
Tess is in demand as a popular workshop presenter and has presented extensively around Australia in capital cities and regional areas. She has represented KMEIA and presented abroad at International Kodály Symposiums in Scotland and Canada to appreciative audiences.
Tess shows longstanding commitment and diligence in all she does. She is a pleasure to work with, a friend to us all and an inspiring model. On behalf of all members of KMEIA, Tess thank-you and congratulations.
Jason Goopy and Ann Carroll
Honorary Life Members
Latest News
The International Kodály Society offers fee waiver scholarships to support participation in Kodály-inspired professional development. The closing date is 1 November 2023. Full information including selection criteria and eligibility is available on the IKS website. With best wishes Jason Boron …
Read more →
It is with great sadness that we inform our community of the passing of Honorary Life Member Ann Carroll. Ann made a significant contribution to Kodály Australia through service as a member of National Council (2008-2020), Editor of the Australian …
Read more →
It is with great excitement that we look forward to the next Kodály Australia Conference to be held in NAARM / Melbourne on September 23 – 26, 2024. Preparations are well underway and the Call for Presentations close this Sunday 15 October 2023. I strongly …
Read more →
It is with great sadness that we inform our community of the passing of Honorary Life Member Gabrielle Emery-Reece. Gabrielle made a significant contribution to Kodály Australia through both the Queensland Branch and National Council as a committee member, Vice President …
Read more →
On behalf of Kodály Australia, I write to thank you for your support this year and offer our best wishes for the festive season. I trust that your work for this year is nearing completion and that you will soon …
Read more →