Sr Valerie Huston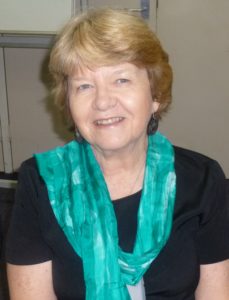 Valerie Huston studied piano as a child, always loving music. She became a teacher and in the 1970s attended the week-long in-service for teachers provided by the Education Department. She attended one on music education led by Myrle Ludgatter and Val Layne which led teachers through the Music syllabus of the time. This was before Kodaly music education was available in Queensland. It lit a spark in her and she started to teach music to every grade in the school. Valerie became a music specialist in various Catholic schools in Brisbane and then attended Judy Johnson's evening courses at Clayfield College.
Her next step was Queensland's North West, travelling to Mt Isa, Cloncurry, Julia Creek and Winton teaching music to each grade and taking sessions with each teacher taking them through the material and "why" of each activity giving them follow-up activities for that material to be delivered during the weeks in between visits.
In 1989 Valerie travelled to Holy Names in California to complete the Masters. She recalls that the Masters in Music Education Kodaly Approach at Holy Names was the most demanding, exhausting and worthwhile study she had ever done. Upon returning she became a Music Education Consultant in Townsville (with Cath Ed) and her aim was to make good quality music education a reality and joy for the children and teachers.
During this time in Townsville Sister Val was part of starting the Townsville Chapter of KMEIA. This required changes to the Constitution as it was the first Chapter of any branch in Australia. The Townsville Chapter continues strongly today and owes much to the strong start made by Sister Val.
Honorary Life Members
Latest News
It is with great sadness that we inform our community of the passing of Honorary Life Member Gabrielle Emery-Reece. Gabrielle made a significant contribution to Kodály Australia through both the Queensland Branch and National Council as a committee member, Vice President …
Read more →
On behalf of Kodály Australia, I write to thank you for your support this year and offer our best wishes for the festive season. I trust that your work for this year is nearing completion and that you will soon …
Read more →
The Kodály Australia National Council were delighted to receive impressive applications and nominations for the 2022 Awards for Excellence in Australian Kodály-inspired Music Education. It was inspiring to see a high number of peer-nominations across each of the five categories. …
Read more →
I am humbled to be elected as President of the Kodály Music Education Institute of Australia. The President along with members of the National Council provide leadership and governance of our association. I look forward to working with the 2022-2024 Council members …
Read more →
On behalf of Kodály Australia, I write to thank you for your support this year and offer our season's greetings. I trust your work has now wrapped up for the year, and you are celebrating the festive season with family …
Read more →