Hélène Matters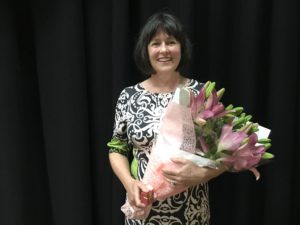 Hélène Matters has made an enormous contribution to the leadership and management of the Kodály Music Education Institute of Australia Incorporated over several years, and as well has been an international leader and advocate for Kodály-based music education. Hélène is one of those special Australians whose contribution to Kodály-based music education and system development has been international.
There are now a number of Australian music educators who have been internationally active and recognised as significant music leaders and educators in this field.  Hélène has made her mark with distinction in the field of Kodály-based music education in both Australia and the USA.
In Australia, Hélène served as a member of the KMEIA National Council from 2012 to 2016. During that time she was the National Vice-President 2012-2014, and was a significant, impressive and very successful Convenor of the National Council's Finance and Strategic Planning Committee 2012-2016. Hélène led new directions for administrative and financial management and current and future planning. The appointment of a National Administrator was an achievement of Hélène's period of administrative and financial leadership.
Hélène's career has involved a significant contribution to Kodály music education through her undertaking of substantial roles in the service of Kodály music education in her school teaching career, her university teaching career and in tertiary leadership in Australia and in the USA.
Hélène is also an accomplished pianist and accompanist, an excellent school music teacher and a tertiary music lecturer and researcher. She is active as a choral conductor, composer and arranger, and is highly experienced in musical analysis and transcriptions.  Hélène has also had a stellar career as a renowned music educator in an incredibly broad range of music disciplines and institutions:
In Australia Hélène has been a primary school music specialist teacher in Queensland (1987-1997), a part-time music education lecturer at Griffith University Brisbane, Qld, and a Lecturer at the Cuskelly School of Music, Brisbane (2012-2015 and 2017-2018).
In the USA, Hélène has been a lecturer at Holy Names University (HNU) in California USA, teaching piano and lecturing in musicianship (2002-2005), Interim Director of Music, Holy Names University (2003 -2005), Co-Chair of the National OAKE Conference, San Francisco, California 2004, a lecturer at the Kodály Summer Institute, HNU, CA USA in Pedagogy, Practicum, Folk Music, Musicianship, Conducting (2013), and also a lecturer at the Kodály Summer Institute, Conservatory of Music, Puerto Rico, Musicianship and Conducting (2013).
Within her professional interests Hélène also been the Director/Founder of an a capella women's ensemble (20+ years in Brisbane), has been a singer with a wide variety of choral groups, has transcribed folk songs from early recordings held in the Library of Congress, and advocates for choral groups.
Hélène lives in both the USA and in South-east Queensland, Australia.
Congratulations to Hélène Matters, awarded Honorary Life Membership, 2019.
Ann Carroll
Honorary Life Members
Latest News
It is with great sadness that we inform our community of the passing of Honorary Life Member Gabrielle Emery-Reece. Gabrielle made a significant contribution to Kodály Australia through both the Queensland Branch and National Council as a committee member, Vice President …
Read more →
On behalf of Kodály Australia, I write to thank you for your support this year and offer our best wishes for the festive season. I trust that your work for this year is nearing completion and that you will soon …
Read more →
The Kodály Australia National Council were delighted to receive impressive applications and nominations for the 2022 Awards for Excellence in Australian Kodály-inspired Music Education. It was inspiring to see a high number of peer-nominations across each of the five categories. …
Read more →
I am humbled to be elected as President of the Kodály Music Education Institute of Australia. The President along with members of the National Council provide leadership and governance of our association. I look forward to working with the 2022-2024 Council members …
Read more →
On behalf of Kodály Australia, I write to thank you for your support this year and offer our season's greetings. I trust your work has now wrapped up for the year, and you are celebrating the festive season with family …
Read more →