Article By Elaine Ding, Musik Maestro, Indonesia
For ten full days, twenty-seven participants gathered in Jakarta, Indonesia, for musicianship, pedagogy, choir, conducting and piano lessons. Most of the participants are instrumental studio teachers, school teachers and conductors who reside in Indonesia. There were also several participants from the neighbouring countries of Malaysia and Singapore.
Under master teachers, Dr James Cuskelly (President of the International Kodály Society) and Professor Gilbert de Greeve (Past President of the International Kodály Society), the participants were introduced to Kodály's vision, philosophy and approach to teaching music.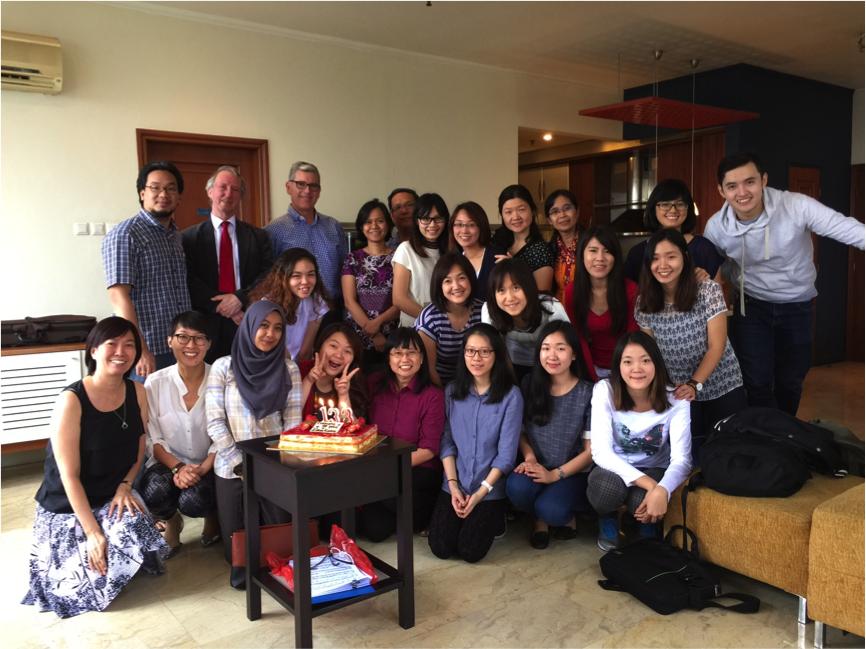 Two streams of study were offered. The first was Classroom – Primary Level 1 conducted by Dr James Cuskelly. A continuous study (three levels) may lead to accreditation by the Kodály Music Education Institute of Australia (KMEIA). It may also lead to articulation for postgraduate study at several universities around the world.
The second stream of study was Piano studies. This is the first time in the world that a intensive Kodály Piano Course of this kind has been offered, and proved to be most valuable for the many local piano teachers. As one teacher said, "Although I had to cancel two weeks of piano teaching, I don't regret it! This workshop is totally worth it!"
Prof. Gilbert taught about style and interpretation when playing piano pieces from different eras, and this approached continued in the piano pedagogy sessions. Importantly, repertoire examples with development goals in mind were included and participants gained valuable insight into using repertoire for the teaching of speiific concepts and skills. A vital component of this program was the inclusion of individual piano lessons and participants felt that this was a keystone in the success of the program. The individual tuition revealed both the practice and theory of piano pedagogy and one participant said, "I was taught so many things in the piano class that I did not know before."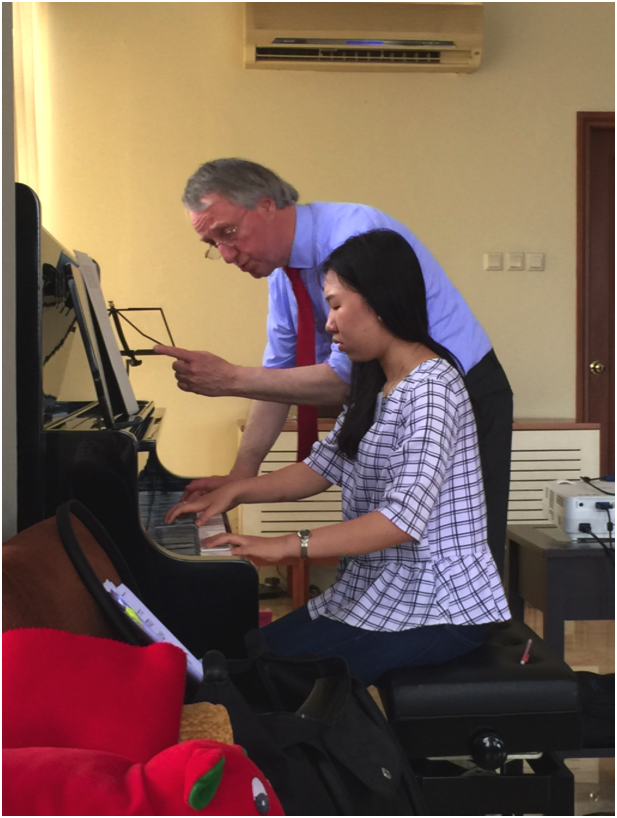 As with many Kodály classes around the world, musicianship classes presented participants with significant challenge. One participant shared, "I learned more in these ten days that all the time in Aural class at university! I used to think that I have nothing else to learn since I have perfect pitch. But I now realise how important the movable doh is, to improve my musicianship. Thanks for changing my mind!"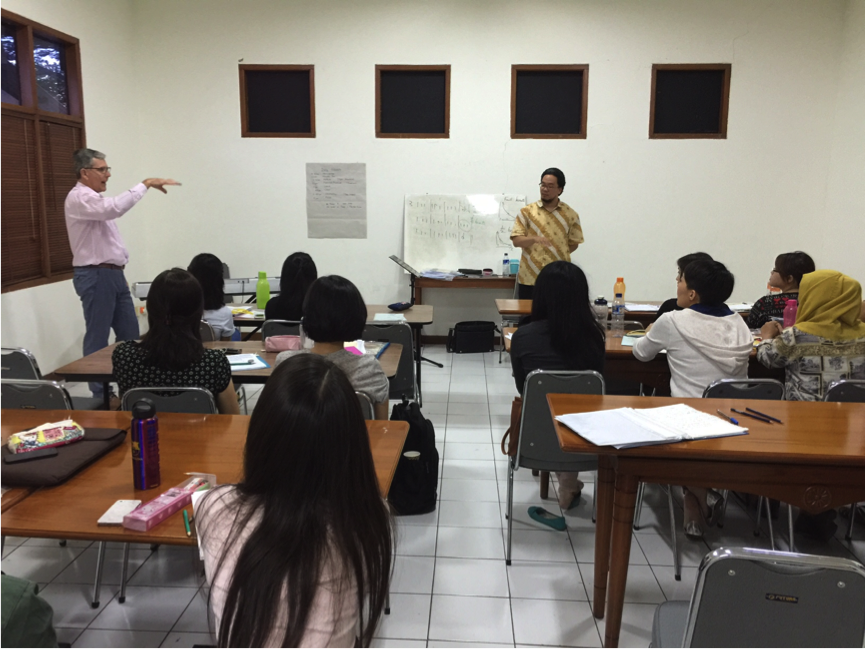 Kodály said, "Teach music and singing at school in such a way that it is not a torture but a joy for the pupil; instill a thirst for finer music in him, a thirst which will last for a lifetime." In the Classroom stream, Dr Cuskelly taught many fun singing games suitable for children, while at the same time training the participants to think and teach in terms of behavioural objectives, focus points and strategies for the music classroom. Teaching is broken down into a science as well as an art, and it was clear that everyone enjoyed the learning.
Since Kodály was born on 16 Dec 1882, we took the opportunity to celebrate his 133th year with cake and a performance by Prof. Gilbert. Kodály's vision for every person to have a quality music education is something that strikes a chord in the true musician's heart.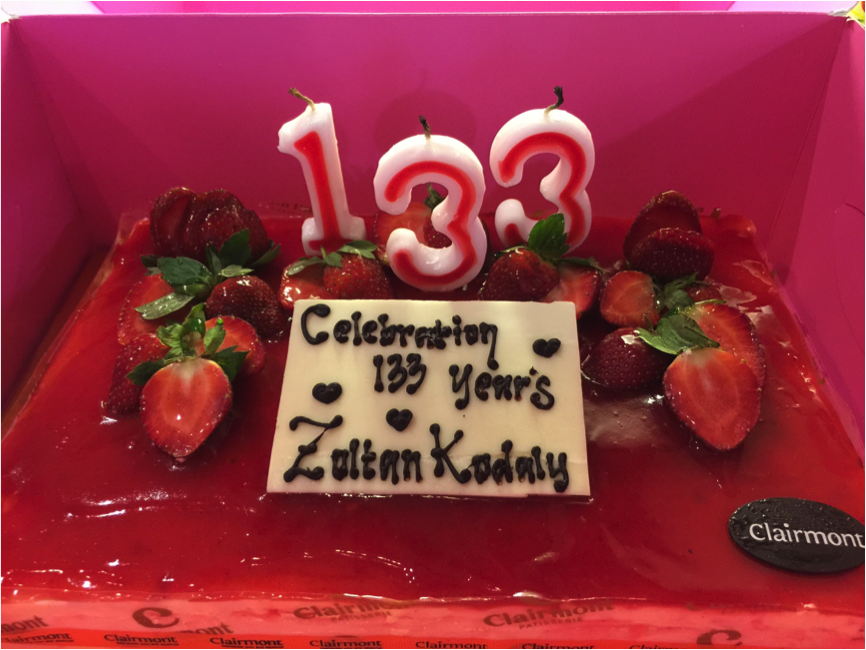 A special highlight of this workshop was a set of Indonesian folk songs which Prof. Gilbert arranged for the young pianist. It was inspiring to hear Indonesian favorites such as "Apuse", "Naik, Naik ke Gunung Puncak" and "Yamko Rambe Yamko", amongst others, arranged in Baroque, Classical, Impressionistic and Modern styles! With this collection, the young pianist can play Indonesian folk songs, and at the same time, learn about different Western music styles.
This collection will hopefully be published by the time the next Kodály Workshop in Jakarta, scheduled for 12 July (Tues) to 21 July (Thur), 2016. It will be a total of 9 days, excluding Sunday. For more information and registration, please email the organiser at musikmaestroindonesia@gmail.com