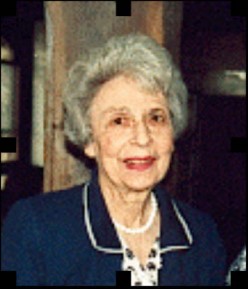 Dr Doreen Bridges AM FACE, well known to many of us, is celebrating her 100th birthday on Saturday 9 June 2018.
Dr Bridges, née Jacobs, was a student at the University of Adelaide and was awarded the first Australian doctorate in the field of music education. She taught at a Sydney University and later was a Senior Lecturer at what is now the Institute of Early Childhood in Sydney. She now resides in Adelaide.
Doreen is a widely recognized as a distinguished and versatile music educator and researcher who has taught at all levels of education. She was appointed to the Research Commission of the International Society for Music Education. She is also an honorary member of the Australian Society for Music Education, and Patron of Dalcroze Australia an approach in which she was very active since her youth.
Doreen is also an Honorary Life Member of the Kodály Music Education Institute of Australia. Her evaluation and endorsement of Dr Deanna Hoermann's Developmental Music Program, presented at the Fourth International Kodály Symposium of the International Kodály Society in Sydney in 1979, was an eye opener for many music educators. She has since then co-authored several very successful classroom music program books with Dr Hoermann, including Catch a Song. She has also presented at KMEIA events and her work has been published in the Australian Kodály Journal. A few highlights are listed below.
Aural training in the 21st century (2006)
Outcomes of a Developmental Program (2010). A paper presented at the 1979 IKS Fourth Symposium in Sydney.
Kodály's Principles in Practice: Yesterday, Today and Tomorrow (2011). A paper presented at the opening session of the 11th National Summer School of the Kodály Music Education Institute of Australia, Sydney, January 12, 1997.
We congratulate Dr Bridges on becoming a centenarian and wish her well.
Best wishes
Jason Goopy
President
Kodály Music Education Institute of Australia (KMEIA) Inc.
www.kodaly.org.au